NEW SUNSPOT: Breaking a string of 25 consecutive spotless days, a new sunspot is forming near the sun's northwestern limb. The magnetic polarity of the spot identifies it as a member of new Solar Cycle 24. Readers, if you have a solar telescope, now is the time to watch sunspot genesis in action.
images: from Pete Lawrence of Selsey, West Sussex, UK; from Jan Timmermans of Valkenswaard, The Netherlands
VENUS & THE MOON: Set your alarm for dawn. Just before sunrise on Wednesday morning, April 22nd, Venus and the crescent Moon will have a spectacular close encounter in the eastern sky. Artist Mark Seibold of Portland, Oregon, is looking forward to the view so much, he couldn't wait to draw it: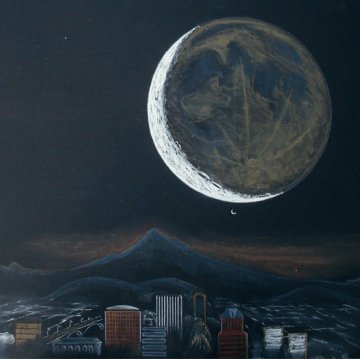 In his pastel sketch, both Venus and the Moon are portrayed as crescents. That's not artistic licence. Both worlds have phases and on Wednesday morning both will have a crescent shape. Use binoculars or a small telescope to resolve the tiny arc of Venus.
For sky watchers in western parts of North America, the Moon will completely eclipse Venus. The event begins just after 5 a.m. Pacific Daylight Time and lasts for more than an hour. Local details may be found here.
LYRID METEOR SHOWER: The annual Lyrid meteor shower is underway. "I saw two bright Lyrids last night," reports Marsha Adams of Sedona, Arizona."They seem to start out orange and finish green." She caught this one using a Nikon D200: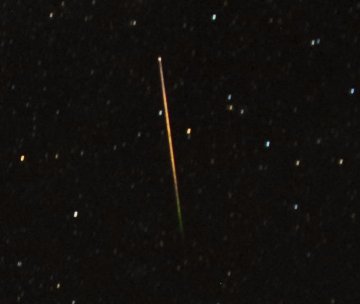 Forecasters expect the shower to peak on April 22nd with 10 to 20 meteors per hour over the northern hemisphere. The best time to look is during the dark hours before dawn on Wednesday morning.
Got clouds? No problem. If you can't see the shower, you can listen to it on Space Weather Radio. We are streaming live signals from the Air Force Space Surveillance Radar in Texas. Whenever a meteor passes overhead--ping!--there is an echo. The Lyrids should produce a surge of audio activity.
more images: from Roman Piffl of Bratislava, Slovakia; from Jens Hackmann of Bad Mergentheim, Germany; from Brian Emfinger of Ozark, Arkansas; from Quentin D. of le Havre, Normandy, France
---
April 2009 Aurora Gallery
[previous Aprils: 2008, 2007, 2006, 2005, 2004, 2003, 2002]
---