| | | |
| --- | --- | --- |
| Metallic photos of the sun by renowned photographer Greg Piepol bring together the best of art and science. Buy one or a whole set. They make a stellar gift. | | |
PLUTO'S NEW MOON: Astronomers using the Hubble Space Telescope have discovered a fourth moon orbiting Pluto. The new satellite popped up in a Hubble survey searching for rings around the dwarf planet. Science@NASA has the full story.
LAST PICTURE OF ATLANTIS IN SPACE: This morning, space shuttle Atlantis landed at NASA's Kennedy Space Center, wrapping up the final mission of NASA's space shuttle program. At 08:27:48 UT, just 21 minutes before the deorbit burn, astrophotographer Thierry Legault captured what might be the last picture of Atlantis in space--and it was a solar transit: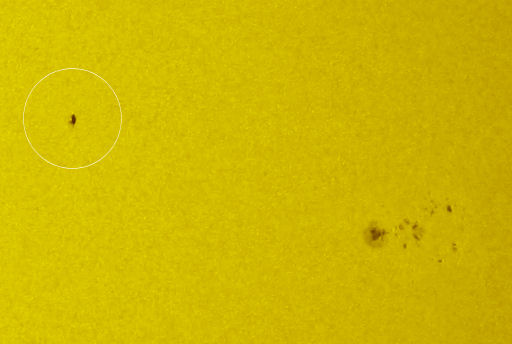 Above: Space shuttle Atlantis (circled) and sunspot AR1254
Because Atlantis was passing over Europe in broad daylight, the only way to catch it would be in silhouette against the sun. "I traveled from my home in Paris, France, to Emden city, Germany, to put myself in the transit's path," says Legault. "Skies were cloudy, but fortunately the transit occurred in a clear gap. Its duration was only 0.9 seconds and Atlantis, from a distance of 566 km (350 miles), appeared on four images."
Readers, do you have a picture of Atlantis in space taken after 08:27:48 UT on July 21st? If so, submit your images here.
more images: from Christopher Handler of Mt Lofty, South Australia, Australia; from Wim Filmalter of Riversdale, Western Cape Province, South Africa; from Rob Carew of Melbourne, Australia; from Rudie Loots of Somerset West, South Africa; from Mike C of Prairieville, LA;
HOT DINNER: Paleontologist and amateur astronomer Wienie van der Oord lives in the Arava desert in Israel, close to the Jordanian and Egyptian border. "A friend and I were hiking in the area before sunset on July 16th when I realized we hadn't eaten since breakfast," says van der Oord. It was time for a hot dinner: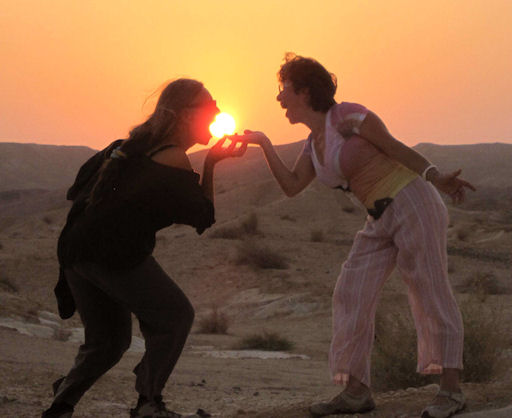 "Anna tried to prevent me from burning my mouth as I took a bite out of the sun," continues van der Oord. "The meal was not as filling as I expected, so later I had the Moon for desert."
Other photographers are also finding the sun to be an appetizing target. Click on the links for more snapshots: from Tom of Derby, Western Australia; from Matthias Juergens of Gnevsdorf, Germany; from Peter Desypris of Island of Syros, Greece; from Michael Borman of Evansville, Indiana;
---
2011 Noctilucent Cloud Gallery
[previous years: 2003, 2004, 2005, 2006, 2007, 2008, 2009]
---
June 2011 Aurora Gallery
[Aurora alerts: text, voice] [previous Junes: 2010, 2008, 2001]