| | | |
| --- | --- | --- |
| All-inclusive Northern Lights trips in Tromsø, Norway. Small groups, big experiences! Highly qualified guides ensure unique and unforgettable adventures with a personal touch. Visit Explore the Arctic | | |
SOLAR WIND SPARKS AURORAS: A fast-moving stream of solar wind is blowing around Earth today, and this is sparking bright auroras around the Arctic Circle. Alex Conu sends this picture from the Lofoten Islands of Norway: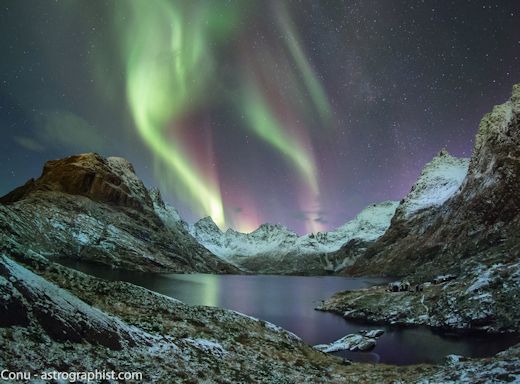 "This happened last night above Ågvatnet, a lake next to the small but famous village of Å in Lofoten," says Conu. "The sky went crazy!"
This stream of solar wind is flowing from a relatively narrow hole in the sun's atmosphere. Earth will probably be inside it for no more than 36 to 48 hours.  Arctic sky watchers should be alert for more auroras tonight, Nov. 21-22, as our planet makes a quick trip through the gaseous material.  Free: Aurora Alerts.
INTERSTELLAR ASTEROID "LIKE NOTHING SEEN BEFORE": In Oct. 2017, the Pan-STARRS 1 telescope in Hawai'i picked up a faint point of light moving across the sky. At first it appeared to be an ordinary asteroid--but astronomers quickly realized it was something entirely different. The hurtling object, since named "'Oumuamua," came from interstellar space. At the time of its discovery, 'Oumuamua had just swung around the sun. Telescopes around the world swiveled to observe it before it could leave the Solar System. Findings from those rapid observations were published in the Nov. 20th issue of Nature, and they reveal a very strange object indeed: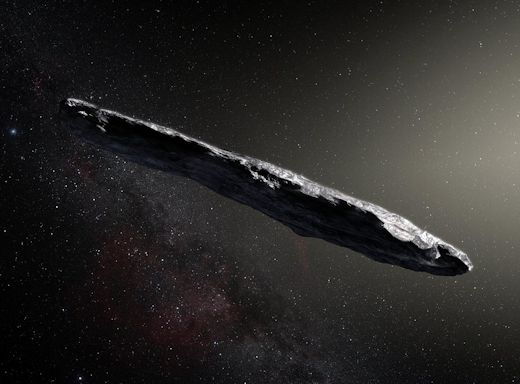 Above: an artist's concept of interstellar asteroid 'Oumuamua [more]
According to a European Southern Observatory (ESO) press release, 'Oumuamua is "like nothing seen before." It is red, made of dense rock or metal, and is shaped roughly like a giant cigar at least 400 meters long.
These are the findings of a team of astronomers led by Karen Meech (Institute for Astronomy, Hawai`i, USA) who combined images from the ESO's Very Large Telescope in Chile with other large telescopes. 'Oumuamua varies dramatically in brightness by a factor of ten as it spins on its axis every 7.3 hours. "This unusually large variation in brightness means that the object is highly elongated: about ten times as long as it is wide, with a complex, convoluted shape," says Meech.
The asteroid's dark red color is probably caused by cosmic rays irradiating its surface for millions of years in deep space. Cosmic rays have a similar coloring effect on asteroids and comets native to our outer Solar System. 
Extrapolating 'Oumuamua's trajectory back in time, it seems to come from the direction of the star Vega. However, Vega itself moves and was not in the area when 'Oumuamua was last there ~300,000 years ago. 'Oumuamua may well have been wandering through the Milky Way, unattached to any star system, for hundreds of millions of years before its chance encounter with the Solar System.
Researchers estimate that interstellar asteroids similar to 'Oumuamua pass through the inner Solar System about once per year, but they are faint and so have been missed until now.Only recently have survey telescopes such as Pan-STARRS become powerful enough to discover them.

"We are continuing to observe this unique object," says team member Olivier Hainaut from the ESO in Garching, Germany. "And now that we have found the first interstellar rock, we are getting ready for the next ones!" Stay tuned.
Realtime Space Weather Photo Gallery

A CRYSTAL BALL IN THE STRATOSPHERE: For the first time ever, a crystal ball has visited the stratosphere. The students of Earth to Sky Calculus launched it on Oct. 19, 2017--a combination optics experiment and fundraiser. Watch the video as the crystal orb travels onboard a giant helium balloon 93,000 feet above Earth's surface, stretching, focusing, and inverting the incredible landscape of the Sierra Nevada mountains behind it:
This 800 gram crystal ball contains an embedded model of the Solar System, including the sun, eight planets and their moons. It makes an incredible gift for anyone interested in space.

We have flown only a small number of these heavyweight crystal balls. You can have one for $199. Each crystal ball comes with a unique gift card showing the item at the edge of space and telling the story of its flight. It also comes with a complementary crystal stand so you can display this unique keepsake on a desktop or shelf. QUANTITIES ARE LIMITED.
Far Out Gifts: Earth to Sky Store
All proceeds support hands-on STEM education

---
Every night, a network of
NASA all-sky cameras
scans the skies above the United States for meteoritic fireballs. Automated software maintained by NASA's Meteoroid Environment Office calculates their orbits, velocity, penetration depth in Earth's atmosphere and many other characteristics. Daily results are presented here on Spaceweather.com.
On Nov. 21, 2017, the network reported 64 fireballs.
(40 sporadics, 15 Leonids, 8 Northern Taurids, 1 November theta Aurigid)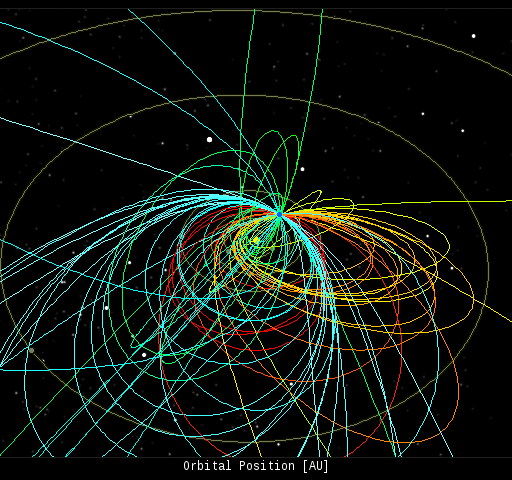 In this diagram of the inner solar system, all of the fireball orbits intersect at a single point--Earth. The orbits are color-coded by velocity, from slow (red) to fast (blue). [Larger image] [movies]
Potentially Hazardous Asteroids (
PHAs
) are space rocks larger than approximately 100m that can come closer to Earth than 0.05 AU. None of the known PHAs is on a collision course with our planet, although astronomers are finding
new ones
all the time.
On November 21, 2017 there were
1853
potentially hazardous asteroids.

Recent & Upcoming Earth-asteroid encounters:
Asteroid

Date(UT)

Miss Distance

Velocity (km/s)

Diameter (m)

2017 VV12

2017-Nov-15

1.9 LD

6.5

9

2017 VM2

2017-Nov-15

17.9 LD

8.9

89

2017 WB

2017-Nov-15

7.4 LD

8.8

32

2017 VN13

2017-Nov-15

3 LD

8.9

9

444584

2017-Nov-17

8.7 LD

14.8

324

2017 VC14

2017-Nov-18

1.3 LD

11.2

7

2017 UC52

2017-Nov-18

19.5 LD

14.7

50

2017 WU1

2017-Nov-18

3 LD

7.4

15

2017 VN2

2017-Nov-18

6.2 LD

4.9

12

2017 WT1

2017-Nov-18

14.9 LD

9.8

42

2017 WE

2017-Nov-19

11.7 LD

15.9

16

2017 WC

2017-Nov-20

3 LD

7.6

23

2017 WB1

2017-Nov-20

2 LD

9.4

10

2017 VD13

2017-Nov-22

13.1 LD

16.4

36

2017 VA15

2017-Nov-22

8.1 LD

6.4

35

2017 VZ14

2017-Nov-24

3.2 LD

8.4

37

2017 VY13

2017-Nov-25

2 LD

10.5

18

2017 WK1

2017-Nov-28

7.8 LD

8

14

2008 WM61

2017-Dec-03

3.8 LD

4.7

16

2017 VS14

2017-Dec-12

15.9 LD

2.8

15

2015 XX169

2017-Dec-14

9.7 LD

6.3

11

2017 VT14

2017-Dec-17

3.8 LD

10.4

103

2011 YD29

2017-Dec-19

17.6 LD

7.7

20

2006 XY

2017-Dec-20

6.5 LD

5

56

2017 TS3

2017-Dec-22

18.1 LD

10.2

136

418849

2017-Dec-22

15.3 LD

17.4

257

2015 YQ1

2017-Dec-22

17.3 LD

11.1

9

2017 QL33

2017-Dec-30

13.3 LD

8.2

191

2015 RT1

2018-Jan-02

19.7 LD

9

30

2004 FH

2018-Jan-10

20 LD

8.5

26

Notes: LD means "Lunar Distance." 1 LD = 384,401 km, the distance between Earth and the Moon. 1 LD also equals 0.00256 AU. MAG is the visual magnitude of the asteroid on the date of closest approach.

| | |
| --- | --- |
| | Cosmic Rays in the Atmosphere |




Readers, thank you for your patience while we continue to develop this new section of Spaceweather.com. We've been working to streamline our data reduction, allowing us to post results from balloon flights much more rapidly, and we have developed a new data product, shown here:

This plot displays radiation measurements not only in the stratosphere, but also at aviation altitudes. Dose rates are expessed as multiples of sea level. For instance, we see that boarding a plane that flies at 25,000 feet exposes passengers to dose rates ~10x higher than sea level. At 40,000 feet, the multiplier is closer to 50x. These measurements are made by our usual cosmic ray payload as it passes through aviation altitudes en route to the stratosphere over California.

What is this all about? Approximately once a week, Spaceweather.com and the students of Earth to Sky Calculus fly space weather balloons to the stratosphere over California. These balloons are equipped with radiation sensors that detect cosmic rays, a surprisingly "down to Earth" form of space weather. Cosmic rays can seed clouds, trigger lightning, and penetrate commercial airplanes. Furthermore, there are studies ( #1, #2, #3, #4) linking cosmic rays with cardiac arrhythmias and sudden cardiac death in the general population. Our latest measurements show that cosmic rays are intensifying, with an increase of more than 13% since 2015:




Why are cosmic rays intensifying? The main reason is the sun. Solar storm clouds such as coronal mass ejections (CMEs) sweep aside cosmic rays when they pass by Earth. During Solar Maximum, CMEs are abundant and cosmic rays are held at bay. Now, however, the solar cycle is swinging toward Solar Minimum, allowing cosmic rays to return. Another reason could be the weakening of Earth's magnetic field, which helps protect us from deep-space radiation.

The radiation sensors onboard our helium balloons detect X-rays and gamma-rays in the energy range 10 keV to 20 MeV. These energies span the range of medical X-ray machines and airport security scanners.

The data points in the graph above correspond to the peak of the Reneger-Pfotzer maximum, which lies about 67,000 feet above central California. When cosmic rays crash into Earth's atmosphere, they produce a spray of secondary particles that is most intense at the entrance to the stratosphere. Physicists Eric Reneger and Georg Pfotzer discovered the maximum using balloons in the 1930s and it is what we are measuring today.

| | |
| --- | --- |
| | The official U.S. government space weather bureau |

| | |
| --- | --- |
| | The first place to look for information about sundogs, pillars, rainbows and related phenomena. |

| | |
| --- | --- |
| | Researchers call it a "Hubble for the sun." SDO is the most advanced solar observatory ever. |

| | |
| --- | --- |
| | 3D views of the sun from NASA's Solar and Terrestrial Relations Observatory |

| | |
| --- | --- |
| | Realtime and archival images of the Sun from SOHO. |

| | |
| --- | --- |
| | from the NOAA Space Environment Center |

| | |
| --- | --- |
| | fun to read, but should be taken with a grain of salt! Forecasts looking ahead more than a few days are often wrong. |

| | |
| --- | --- |
| | from the NOAA Space Environment Center |

| | |
| --- | --- |
| | the underlying science of space weather |

| | |
| --- | --- |
| | Reviews here can help you to pick up best memory foam mattresses. |

| | |
| --- | --- |
| | These links help Spaceweather.com stay online. Thank you to our supporters! |