| | | |
| --- | --- | --- |
| They came from outer space--and you can have one! Genuine meteorites are now on sale in the Space Weather Store. | | |
CME AND RADIATION STORM: A solar radiation storm is in progress on May 22nd following an M5-class explosion on the sun's western limb. The source of the flare, which peaked at 1332 UT, was departing sunspot AR1745. SOHO coronagraphs observed a magnificent CME emerging from the blast site: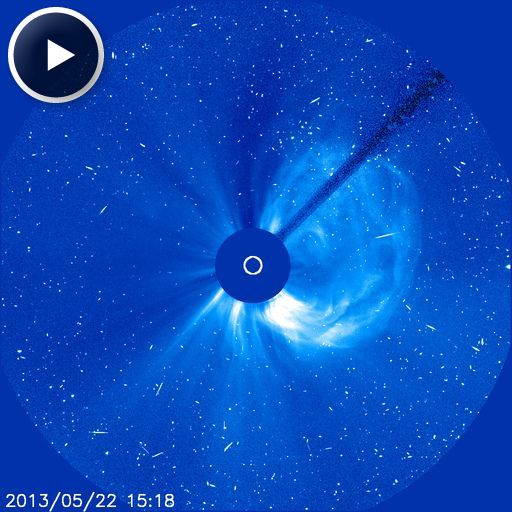 Play the movie again. The speckles dancing across the image are caused by high-energy solar protons striking the CCD camera in SOHO's coronagraph. Those protons were guided toward Earth by magnetic field lines that connect our planet to the blast site. The rain of protons is what forecasters mean by a "radiation storm." This storm ranks S2 on NOAA storm scales.
Although the explosion was not Earth-directed, we cannot yet rule out the possibility that the CME could deliver a glancing blow to Earth in the days ahead. Stay tuned for further analysis. Aurora alerts: text, voice.
Realtime Space Weather Photo Gallery
THE SHOW BEGINS: The long-awaited sunset sky show of May 2013 is beginning. In only a few days, Venus, Jupiter and Mercury will form a tight triangle in the western sky, visible to the unaided eye around the world. Last night, Fred Espenak of Portal, Arizona, photographed the trio in the early stages of convergence: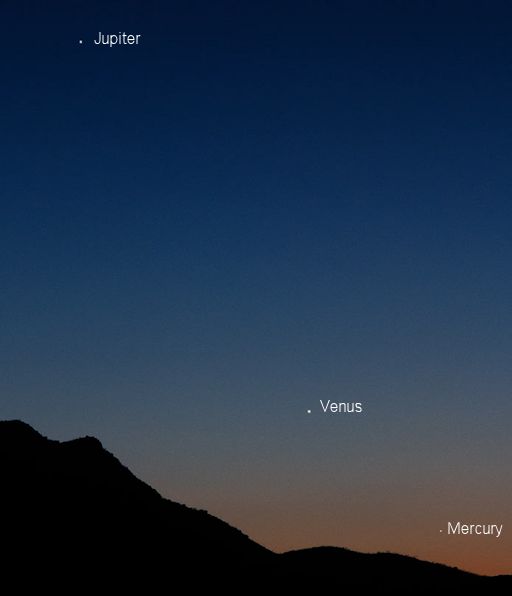 "The three planets were easily visible to the naked eye in spite of the bright twilight glow," says Espanel. "Mercury should be even easier to spot in the coming days as it climbs higher into the sky. "
In the nights ahead, the line of planets will collapse to form a triangle. At closest approach on May 26th, they will fit within a circle less than 3o wide. Start watching tonight--it's a great way to end the day. [full story] [video]
A BIG ASTEROID APPROACHES: Near-Earth asteroid 1998 QE2 is approaching the Earth-Moon system for a flyby on May 31st. There's no danger of a collision; at closest approach the asteroid will be 3.6 million miles away. Even at that distance, however, the 1.7-mile-wide space rock will be an easy target for mid-sized backyard telescopes. Using a 14-inch Celestron, Alberto Quijano Vodniza of Narino, Colombia took this picture of 1998 QE2 on May 17th: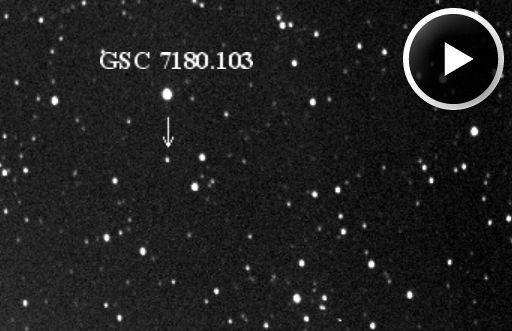 The sunlit side of the asteroid will turn more squarely toward Earth during the first week of June. At that time it will reach a maximum brightness of 11th magnitude.
NASA radars will be monitoring the flyby, too. "Asteroid 1998 QE2 will be an outstanding radar imaging target at Goldstone and Arecibo and we expect to obtain a series of high-resolution images that could reveal a wealth of surface features," says radar astronomer Lance Benner of JPL. "Whenever an asteroid approaches this closely, it provides an important scientific opportunity to study it in detail to understand its size, shape, rotation, surface features, and what they can tell us about its origin."
Stay tuned for updates and observing tips.
---
---
---
Realtime Noctilucent Cloud Photo Gallery
[previous years: 2003, 2004, 2005, 2006, 2007, 2008, 2009, 2011]