| | | |
| --- | --- | --- |
| AURORA ALERTS: Did you miss the Northern Lights of June 14th? Next time get a wake-up call from Space Weather PHONE. | | |
NLC ALERT: Summer is the season for noctilucent clouds (NLCs) and yesterday's solstice kicked off an intense display over the British Isles. Some veteran observers said the clouds were as bright as they've ever seen. Readers, especially you at high latitudes, be alert for NLCs in the evenings ahead; observing tips may be found in the photo gallery.
MARTIAN ICE: Scientists have figured out the mysterious white substance unearthed by NASA's Phoenix lander on Mars. It's frozen water. The breakthrough came last week when Phoenix's stereo camera caught the substance in the act of disappearing:


Bathed in martian sunlight for four days, the white substance sublimated--i.e., it transformed from solid to gas without passing through the liquid state. This is how water behaves on Mars. Atmospheric pressure on the Red Planet is so low (1% that of Earth), it rarely allows H2O to exist in liquid form on the planet's surface; solid and gas are the only options. Some readers have asked, how do we know the white substance is not frozen CO2 (dry ice) instead of frozen water? Answer: Phoenix's landing site is too warm for dry ice. The average daily temperature is about -70 F while dry ice requires temperatures lower than about -109 F.
Finding water was one of the key goals of the Phoenix mission. Although H2O has trouble flowing as a liquid on the surface of Mars, it may be able to liquify, from time to time, just below the surface, providing a habitat for martian microbes. Exciting stuff! Stay tuned as the digging continues.
ICE SEE 3D: Ready to see martian ice vanish in three dimensions? Slip on your 3D glasses and click here. Belgian graphic artist Patrick Vantuyne created the anaglyph by combining right- and left-eye images from Phoenix's stereo camera.
SOLSTICE CELEBRATIONS: No, this mountain in the Austrian Alps is not spewing lava. It's a summer solstice celebration: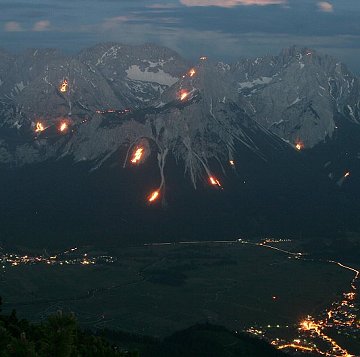 Zoom in and zoom in again to see what's really happening.
"This is a traditional solstice celebration in our part of Europe," explains photographer Thorsten Boeckel. "More than 8000 fires light up these 200-meter figures in the steep mountain walls from an altitude of 1200m to 2900m. What an unique sight from a 2000m perch on the opposite side of the valley."
more solstice photos: from Andrew Greenwood at Jodrell Bank Observatory, Cheshire, England
---