| | | |
| --- | --- | --- |
| Listen to radar echoes from satellites and meteors, live on listener-supported Space Weather Radio. | | |
POLAR STORM WARNING: Two CMEs are heading for Earth. The plasma clouds were expelled from the sun on August 20-21 by a pair of erupting magnetic filaments. NOAA forecasters expect the CMEs to arrive on August 23-24, possibly sparking geomagnetic storms around the poles. Aurora alerts: text, voice.
AURORA SEASON BEGINS: Around the Arctic Circle, summer is long and bright. Auroras vanish in the glow of the midnight sun. News flash: the auroras are back. "Tonight I saw the first auroras of the new season in Oulu, Finland," says Thomas Kast, who took this picture on August 22nd: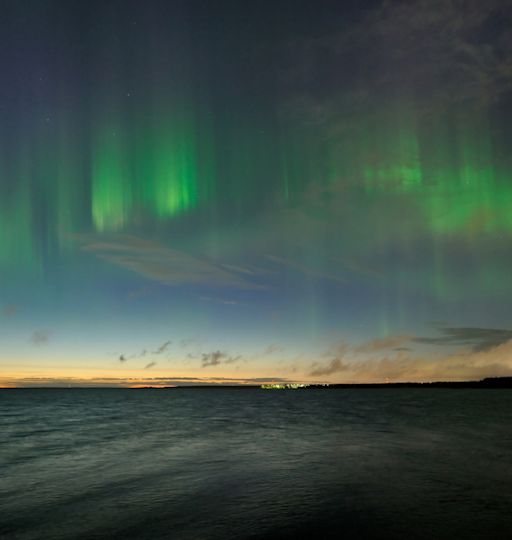 "This is how the sky looked at ten minutes past midnight," says Kast. "The orange color on the left is twilight, just between sunset and sunrise, and the waves of the Baltic Sea were lit up by the Full Moon. Above it all were some surprisingly strong Northern lights. I saw needles, purple color, and even a very faint corona."
With autumn approaching, Arctic nights are rapidly darkening. This means more auroras are in the offing. NOAA forecasters estimate a 30% - 45% chance of polar geomagnetic storms on August 22 - 23.
Says Kast: "What a promising start!"
TRUE BLUE MOON? Was Tuesday night's full Moon a "Blue Moon?" Some observers say "yes," but not because the Moon turned blue. Behold this picture of last night's moonrise over Volterraio Castle on the Island of Elba, Italy, then scroll down for further discussion: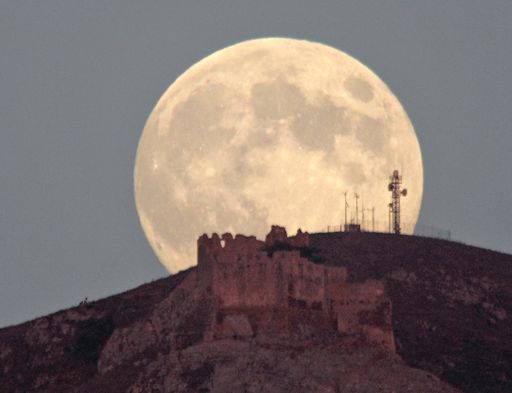 "The Full Moon of Aug. 20-21 is a 'seasonal Blue Moon,'" explains photographer Stefano De Rosa, "because it is the third of four full moons in a single season."
But wait--isn't a Blue Moon the second full Moon in a calendar month? That would be the modern definition, which became popular in the late 20th century. De Rosa's definition is an older and, some would say, truer definition of "Blue Moon."
Which definition is correct? Both and neither. It's all folklore! The only true-blue Moon is a Moon that actually turns blue. And, yes, that can happen. Under certain circumstances volcanic dust and ash from forest fires can scatter the reds out of moonlight, leaving only a blue-cratered disk behind.
Realtime Space Weather Photo Gallery
---
Realtime Noctilucent Cloud Photo Gallery
[previous years: 2003, 2004, 2005, 2006, 2007, 2008, 2009, 2011]
---