COSMIC COINCIDENCE: What are the odds? On Tuesday morning, Feb. 24th, Saturn and Comet Lulin will converge in the constellation Leo only 2o apart. At the same time, Comet Lulin will be making its closest approach to Earth (38 million miles), while four of Saturn's moons transit the disk of the ringed planet. Oh, and the Moon will be New, providing dark skies for anyone who wishes to see the show. All you need now ... is a telescope.
ONE O'CLOCK IN THE MORNING: Set your alarm for 1 am. That's the best time to see Comet Lulin riding high in the southern sky pleasingly close to golden Saturn: sky map. To the unaided eye, Lulin looks like a faint patch of gas. Point your telescope at that patch and you will see a lovely green comet.
Astrophotographer Phil Jones sends this photo, a long exposure through a 4-inch Takahashi refractor, from the grounds of the Central Texas Astronomical Society Observatory in Clifton, Texas: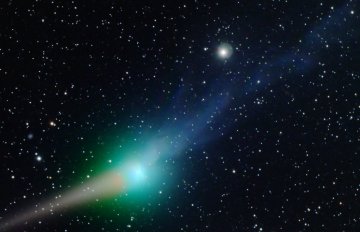 Got clouds? No problem. The Coca-Cola Space Science Center in Columbus, Georgia, plans to webcast the encounter. "We're going to transmit the view through our observatory's 16-inch Schmidt-Cassegrain telescope," says astronomy professor Rosa Williams of Columbus State University. "The webcast begins at 11:30 EST on Monday, Feb. 23rd and will continue until 5 a.m. EST on Tuesday the 24th." Tune in!
SPEEDING COMET: "On Feb. 21st, Comet Lulin was visible to the naked eye with identical brightness as star b Vigo HP58510 with a magnitude of 5.35," reports Eddie Irizarry of the Sociedad de Astronomía del Caribe in Puerto Rico. "But what caught our attention most was Lulin's noticeable speed. Using a telescope, take a good look at the stars that surround Comet Lulin; then look again just 10 minutes later and you will see how Lulin's position has changed. It is amazing how fast this comet is moving!"
UPDATED: Comet Lulin Photo Gallery
[Comet Hunter Telescope] [Sky maps: Feb. 22, 23, 24, 25]
WEEKEND AURORAS: A solar wind stream hit Earth on Saturday, Feb 21st, and stirred up geomagnetic activity around the Arctic Circle. "It was very quiet until midnight and then the sky lit up with beautiful Northern Lights," reports Sylvain Serre from the Inuit village of Salluit in northern Canada. He snapped this picture using his Canon EOS 30D: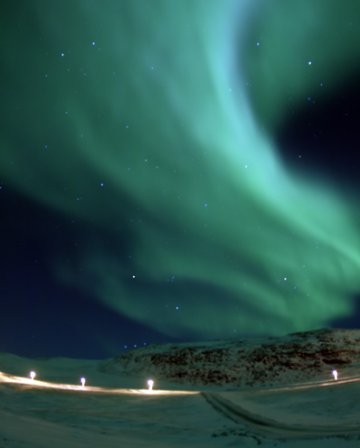 Photo details: Canon EOS 30D, 16mm fisheye, f2.8, 800 ISO, 3 sec
The solar wind stream that triggered the display came from a coronal hole--a magnetic "weak spot" in the sun's atmosphere that allows solar wind to escape into the solar system. The next coronal hole won't turn to face Earth for at least a week, which means Arctic auroras will probably subside until the early days of March. Until then, browse the gallery:
UPDATED: February 2009 Aurora Gallery
[Previous Februaries: 2008, 2007, 2006, 2004, 2003, 2002]
---