LYRID METEOR UPDATE: Yesterday, April 22nd, Earth passed through a stream of debris from Comet Thatcher, and the encounter sparked the annual Lyrid meteor shower. According to the International Meteor Organization, rates peaked at 16 meteors per hour--not an intense display. Nevertheless, a number of pleasingly bright Lyrids were photographed by spaceweather readers.
BIG DISTRACTION: Maybe so few Lyrids were counted because observers were distracted by something else. During the shower's peak, Venus and the Moon converged for a spellbinding encounter so bright it was visible through clouds in broad daylight: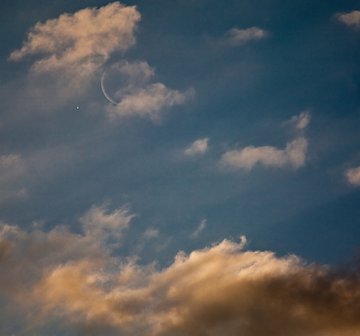 Stan Richard took the picture (and others) from suburban Des Moines, Iowa. "Fortunately," he says, "the clouds parted just in time for me to catch the Moon passing directly in front of Venus." The eclipse was widely seen and photographed from western parts of North America. Click on the links below for a sampling of the best shots.
more images: from Bret Dahl of Plano, Texas; from Antonio Estrada of Toluca, México; a movie from John McNair of Monument, Colorado; from Mark Seibold of Portland Oregon; from Jorge Figueroa of Guatemala; from Kevin Jung of Grand Rapids, Michigan; from Friedrich Deters of LaGrange, North Carolina; from Ignacio A. Rodriguez of Monterrey, Mexico; from Becky Ramotowski of Fort Davis, Texas; from Bob King of Duluth, Minnesota; from Dennis Mammana of Borrego Springs, California; from Pablo Lonnie Pacheco of García, Nuevo León, México; from Robert Astalos of Alamosa, Colorado; from John Shirley near Folsom, California; from Jeff Stone at NASA's Mission Control parking lot in Houston, TX; from Ron Wayman of Tampa, Florida; from Thad V'Soske of Grand Valley, Colorado; from Mark Staples of Waldo, Florida; from Bill Davis of Albuquerque, New Mexico; from John Buchanan of Cheney, Washington; from Jorge Solano of San José Pinula, Guatemala; from Francisco Diaz of Lindon, Utah;
SOLAR PROMINENCE: Every clear day, astrophotographer Pete Lawrence of Selsey, UK, scans the limb of the sun for photogenic prominences. "On April 22nd I spotted a rather odd looking one," he says. "I've never seen anything quite like it before." This photo shows the view through his SolarScope SF-70: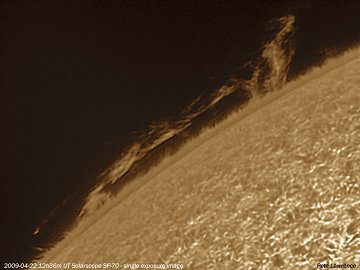 The twisting, swirling maelstrom underwent many changes in the hours that followed Lawrence's first sighting. "At one point I could see real time movement on my computer screen," he says. "It was amazing!"
Apparently, even the quiet sun has something to offer. If you have a solar telescope, take a look.
---
April 2009 Aurora Gallery
[previous Aprils: 2008, 2007, 2006, 2005, 2004, 2003, 2002]
---