| | | |
| --- | --- | --- |
| Turn your cell phone into a field-tested satellite tracker. Works for Android and iPhone. | | |
NORTHERN LIGHTS VIDEO: Oh to be in Norway! Norwegian photographer Ole C. Salomonsen has sorted through more than 50,000 images of the aurora borealis he took during the past six months and assembled the best ones to create a must-see video entitled Land of the Northern Lights. Click here to watch--and then call your travel agent.
SPACE STATION TRANSIT: The sunspot number briefly doubled yesterday (March 23rd) when a spaceship-shaped silhouette flitted across the sun. Anthony Ayiomamitis of Athens, Greece, photographed the transit: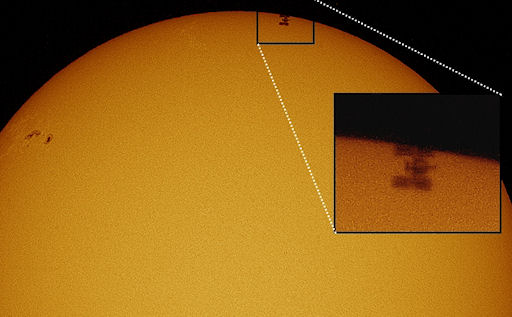 "The International Space Station (ISS) just grazed the solar disk," says Ayiomamitis. "At a range of only 481 km, the ISS looked almost as large as sunspot 1176."
Appearances can be deceiving: Sunspot 1176 spans more than 75,000 km, about six times wider than the entire planet Earth. The ISS, on the other hand, is only 109 meters wide, little more than a footfall field. It was an impressive transit nevertheless.
The sunspot number is back to normal in Athens, but it could be set to double again elsewhere. Check Calsky to find out when the ISS will transit the sun over your hometown.
SQUARE SUPER MOON: Like so many other people around the world, James Helmericks of Alaska went outside on the evening of March 19th to watch the super perigee Moon rise in the east. "Imagine my surprise," he says, "when I saw that it was almost square." He took this picture from the Colville River Delta on Alaska's north slope: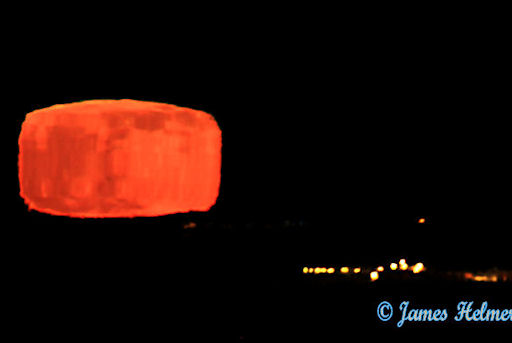 Atmospheric optics expert Les Cowley explains what happened: "This is a very strong mirage produced by rays bent while crossing intense vertical temperature gradients between a layer of cold air beneath warmer air. The lunar disk details are vertically stretched, suggesting that the mirage is part of a fabled Fata Morgana. If we could see distant mountains they would likely be distorted into fantastical vertically elongated shapes resembling castles and tall spires. The high Arctic is famous for these mirages."
more super moonshots: from Peter Rosén of Central Stockholm, Sweden; from Göran Strand of Rörvattnet, Sweden; from Ron Wayman of Tampa Florida; from Guillaume Cannat of Palavas-les-Flots, France; from Rory Glasgow of Huntsville, Texas; from Phil Harrington of Fire Island, New York; from Megan O'Leary of East Sandwich, MA; from Zakaria Hamdi of Djedeida, Debila, Eloued, Algeria; from P-M Hedén of Vallentuna, Sweden; from Jacob Kuiper of Steenwijk, The Netherlands; from Bader Eddine Hamdi of Djedeida, Debila, Eloued, Algeria; from Kendall Gelner of Denver, Colorado; from Miguel Claro of Cabo Espichel, Sesimbra, Portugal.
---
March 2011 Aurora Photo Gallery
[previous Marches: 2010, 2009, 2008, 2007, 2006, 2005, 2004, 2003, 2002]