WEEKEND SKY SHOW: On Sunday, April 26th, the crescent Moon, Mercury and the Pleiades star cluster will line up in the western sky for a beautiful sunset conjunction. Get the full story from Science@NASA.
NOT-SO-QUIET SUN: The sun produced an unexpected burst of activity yesterday, April 23rd, when an enormous prominence rose over the northeastern limb and erupted. SOHO recorded the blast from beginning to end with a series of high-cadence UV snapshots. Click on the image to set the scene in motion:
The complex explosion produced not one but two billion-ton coronal mass ejections (CMEs): movie. An impact from such a double-CME would almost surely spark magnetic storms around the poles of Earth, but it is not heading in our direction. The chance of auroras remains low.
VENUS AND THE MOON: On April 22nd, Venus and the Moon converged for close encounter of rare beauty. "What a spectacular view!" says Marc Provencher, who woke up at dawn to take this picture of the pair rising over Mt. Hood near Portland, Oregon: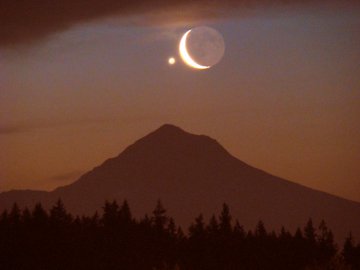 Minutes later, the Moon passed directly in front of Venus, producing a crescent vs. crescent eclipse. Browse the links below for some of the best shots.
more images: from Adrian New of Fort Davis, Texas; from Greg Stablein of Memphis, Tennessee; from Val Ricks of The Woodlands, Texas; from Paul Kinzer of Galesville, Wisconsin; from Tom Polakis of Tempe, Arizona; from Peggy Collins of Pacoima, California; from Bill Meyers of Omaha, Nebraska; from Bret Dahl of Plano, Texas; from Antonio Estrada of Toluca, México; a movie from John McNair of Monument, Colorado; from Mark Seibold of Portland Oregon;
---
April 2009 Aurora Gallery
[previous Aprils: 2008, 2007, 2006, 2005, 2004, 2003, 2002]
---