| | | |
| --- | --- | --- |
| They came from outer space--and you can have one! Genuine meteorites are now on sale in the Space Weather Store. | | |
RADIATION STORM IS OVER: A solar radiation storm that peaked as a minor S1-category event on June 23rd is over. Proton counts near Earth have subsided to normal levels. SWx alerts: text, voice.
M-CLASS SOLAR FLARE: Sunspot AR1778 produced an impulsive M2-class solar flare on June 23rd at 20:56 UT. NASA's Solar Dynamics Observatory recorded the extreme ultraviolet flash: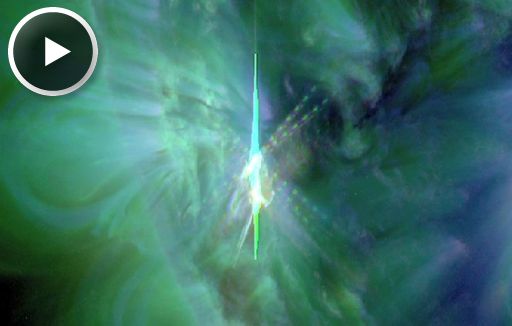 The eruption flung material away from the blast site, but the debris does not appear to be heading toward Earth. Except for the effects of the UV flash, which created a short-lived wave of ionization in Earth's upper atmosphere, this flare was not geo-effective.
More flares could be in the offing. In addition to AR1778, sunspots AR1775 and AR1776 have 'beta-gamma' magnetic fields that harbor energy for significant eruptions. NOAA forecasters estimate a 40% chance of M-flares and a 5% chance of X-flares on June 24th. Solar Flare alerts: text, voice.
SPECTACULAR PHOTOS OF THE SUPERMOON: Over the weekend, sky watchers around the world witnessed an unusually bright and beautiful full moon--a "supermoon." Elias Chasiotis photographed the swollen orb rising over the ancient Greek temple of Poseidon at Sounion, Greece: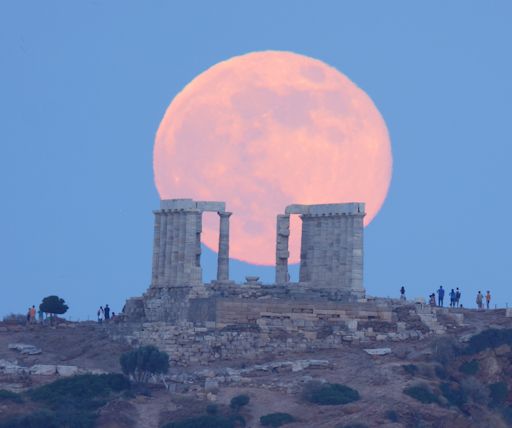 The supermoon was as much as 14% bigger and 30% brighter than other full Moons of 2013. "Perigee moon" is the scientific term for the phenomenon. Full Moons vary in size because of the oval shape of the Moon's orbit. The Moon follows an elliptical path around Earth with one side ("perigee") about 50,000 km closer than the other ("apogee"). Full Moons that occur on the perigee side of the Moon's orbit seem extra big and bright. On June 23rd, the Moon became full at 11:34 UT, only 23 minutes after perigee--a near-perfect coincidence.
More spectacular pictures of the super-perigee Moon may be found in the realtime photo gallery. Browse and enjoy.
CHINESE SPACE STATION CROSSES THE SUN: Earlier this week in the sunny skies above the south of France, China's experimental Tiangong-1 space station flew directly in front of the sun. Using a filtered 6-inch telescope, astrophotographer Thierry Legault recorded the station's silhouette alongside big sunspot AR1775: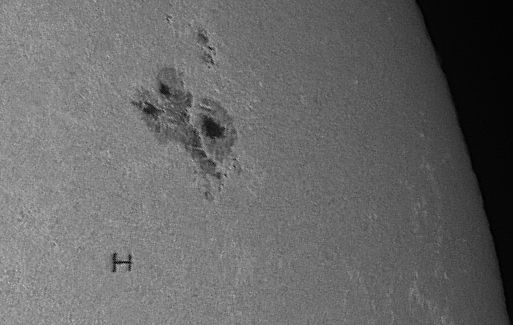 "I recorded two transits--one on June 16 and another on June 17th," says Legault. "They show the Tiangong-1 with 3 taikonauts inside."
Most readers are familiar with the 450-ton International Space Station. Fewer, perhaps, know about China's 8.5-ton Tiangong-1 (Heavenly Palace-1). It was launched in Sept. 2011 to establish a foothold in Earth orbit for China's fledgling space program. Tiangong-1 was briefly boarded by taikonauts (Chinese astronauts) in June 2012, and a second group is onboard now. Three Taikonauts arrived on June 13, 2013, on a 15-day mission to practice rendevous and docking maneuvers and to gain experience living in space. Their expedition is attracting little attention in Western press, but it is being widely followed in China. Earlier this week, more than 60 million students and teachers at 80,000 Chinese schools watched a live lecture by the crew of the Tiangong-1.
According to some reports, the Tiangong-1 will be de-orbited in late 2013 to make way for more advanced experimental stations, Tiangong-2 and Tiangong-3 in the years ahead. Ultimately, China hopes to place an Mir-class station in orbit by 2020.
See the Tiangong-1 before it goes! Spaceweather's Simple Flybys app turns your smartphone into a field-tested space station tracker. It works for both the ISS and the Tiangong-1.
Realtime Space Weather Photo Gallery
---
Realtime Noctilucent Cloud Photo Gallery
[previous years: 2003, 2004, 2005, 2006, 2007, 2008, 2009, 2011]
---
---