| | | |
| --- | --- | --- |
| Turn your cell phone into a field-tested satellite tracker. Works for Android and iPhone. | | |
RUSSIAN CARGO ROCKET LOST: An unmanned Russian rocket carrying 2.9 tons of supplies for the International Space Station failed to reach orbit today when its third stage failed almost six minutes after liftoff. The Interfax news agency reported the Progress 44 spacecraft re-entered the atmosphere over eastern Russia. More information: #1, #2, #3
COLDEST STARS DISCOVERED: Stars as cold as the human body? Believe it. A NASA spacecraft has discovered a half-dozen "Y dwarfs" with atmospheric temperatures as low as 80 F. Get the full story from Science@NASA.
NORTHERN LIGHTS: A solar wind stream hit Earth's magnetic field during the early hours of Augist 24th, sparking geomagnetic activity around the Arctic Circle. "Bright, fast-moving auroras lit up the sky just after midnight," reports Sean M. Scully, who sends this picture from Akureyri, Iceland:
Hours after impact, the solar wind is still blowing at high speed (500+ km/s) but the density of the wind is declining rapidly. This diminishes its ability to rattle Earth's magnetic field and thus produce Northern Lights. Neverthelesss, polar skies could turn green again tonight; NOAA forecasters estimate a 15% chance of continued geomagnetic activity. Aurora alerts: text, voice.
more images: from Bjarki Mikkelsen of Jokkmokk Porjus, Lapland, Sweden.
August 2011 Aurora Gallery
[previous Augusts: 2010, 2009, 2008, 2007, 2006, 2005, 2004, 2003, 2002]
VOLCANIC SUNSETS: Sky watchers in Europe should be alert for volcanic sunsets. "For the past week, we've seen unusual twilight rays probably caused by high-attitude aerosols from Nabro, a volcano which erupted in Eritrea on June 13th," reports Petr Horalek from the Ondřejov Observatory of the Astronomical Institute of the Academy of Sciences of the Czech Republic. This is how the sky looked on Aug. 23rd: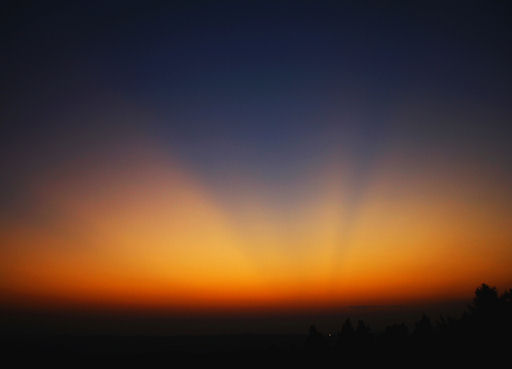 "Around 20 minutes after sunset these significant crepuscular rays appeared like shining fingers in the western sky," he describes. "The rays were so strong, I could see them almost directly overhead; and in the south, they stretched across the horizon like great red and purple stripes."
Purple is one of the telltale colors of a volcanic sunset. Fine volcanic aerosols in the stratosphere scatter blue light which, when mixed with ordinary sunset red, produces a violet hue. Another set of photos taken last night by Martin Popek in the Czech city of Nýdek highlights the purple signature.
More examples of volcanic sunsets may be found here and here.
---
2011 Noctilucent Cloud Gallery
[previous years: 2003, 2004, 2005, 2006, 2007, 2008, 2009]