SPACESHIP SIGHTINGS: The International Space Station and space shuttle Atlantis are docked together and putting on a good show in the night sky. Check the Simple Satellite Tracker for flybys of your home town.
NIGHT LIGHTS: Last night, sky watchers around the world witnessed a beautiful conjunction of Jupiter and the Moon. Together, the two heavenly bodies were so bright they could be seen through clouds and city lights. In Hong Kong, astrophotographer Wah! opened the shutter of his Canon 450D and watched the pair blaze a trail above the tropical urban landscape: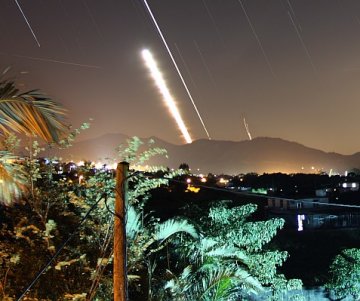 "To make the picture, I combined more than two hundred 30-second exposures," he explains. "What a nice display!"
If you missed it, there is a second chance. Jupiter and the Moon will gather again on Dec. 20th and 21st for a conjunction even more beautiful than last night's. It's a solstice sky show that must not be missed. Mark your calendar and, meanwhile, browse the images below.
more images: from M. Raşid Tuğral of Ankara, Turkey; from Monika Landy-Gyebnar of Veszprem, Hungary; from Bryan Tobias at Ft. Sam Houston National Cemetary, San Antonio, Texas; from Mohamad Soltanolkottabi of Kashan, Esfajan, Iran; from Tamas Ladanyi of Veszprem, Hungary; from Wioleta Zarzycka of Iceland; from Valentin Grigore of Targoviste, Romania; from Frankie Lucena of Cabo Rojo, Puerto Rico; from Doug Zubenel of De Soto, Kansas.
ICE HALO ENIGMA: Nov. 17th was a cold day in Silvercreek-Granby, Colorado. The air itself was filled with tiny ice crystals called "diamond dust," and when the morning sun rose over the eastern hills and rays of light mixed with the ice, luminous arcs filled the sky. A photographer named Jay photographed the display: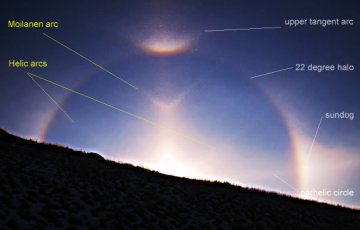 It was not only a beautiful sight, but also a mysterious one. Atmospheric optics expert Les Cowley explains:
"This diamond dust display contains an enigma. The 'V' shaped halo is a Moilanen arc named after its Finnish discoverer. We know it might be formed by sun rays passing between ice crystal faces sloping at an unusual angle of 34o to each other. But that is all we know. Experts in Finland have sampled ice crystals whenever they have seen the Moilanen arc, but so far they can find no traces of crystals with the required angles. How and what forms it is one of the halo world's biggest mysteries!"
"And that is not all," he adds. "Jay's display has two helic arcs. These are also very rare, but at least we know how they were made!"
Finally, don't leave without viewing the full-sized photo, in which individual diamond dust crystals may be seen glinting in sunlight.
---
November Northern Lights Gallery
[previous Novembers: 2008, 2007, 2006, 2004, 2003, 2002, 2001]
---
2009 Leonid Meteor Gallery
[previous Leonids: 1998, 2001, 2002, 2006]
---