| | | |
| --- | --- | --- |
| NEW AND IMPROVED: Turn your iPhone or iPod into a field-tested global satellite tracker. The Satellite Flybys app now works in all countries. | | |
MARTIAN CONJUNCTION: When the sun sets tonight, go outside and look south. The nearly-full Moon and Mars are having a close encounter. Red Mars is five times brighter than a first-magnitude star and it looks great only 6o from the Moon: sky map.
Moon-Mars images: from M. Raşid Tuğral of Ankara, Turkey; from P-M Hedén of Vallentuna, Sweden
OH, SNAP! The 'Great Magnetic Filament' on the sun that we've been tracking for the past week finally erupted yesterday. Click on the image to make the filament snap: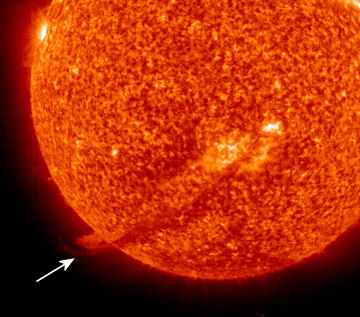 Solar and Heliospheric Observatory (SOHO) images bracket the eruption between 0719 UT and 1919 UT on Feb. 24th. The event did not produce a bright solar flare, as sometimes happens when filaments erupt, but there was a coronal mass ejection (CME). SOHO coronagraphs observed at least one and possibly as many as three clouds billowing away from the sun: movie. If any of this material is heading for Earth--a big unknown!--it would arrive on Feb. 27th or 28th. Arctic sky watchers should be alert for auroras on those dates.
February Northern Lights Gallery
[previous Februarys: 2009, 2008, 2007, 2006, 2004, 2003, 2002]
SOUTH POLE SUN HALO: It's a fact: You're more likely to see a sun halo if the sun is up 24 hours a day. Such is the case at the South Pole where Cody Lee Meyer took this picture earlier today: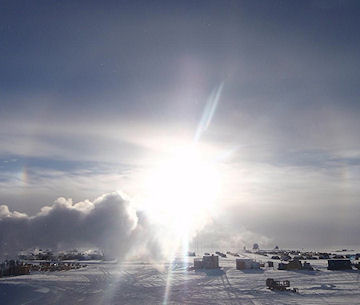 "The autumnal equinox is coming up for folks living at the South Pole Station (90 S latitude)," says Meyer. "We are blessed to witness sun shows nearly every day as the sun hangs around 9.3 degrees above the horizon and ice lingers in the sky."
Of course, you don't have to be at the South Pole to see a sun halo. Click on the links for more examples: from Jose R Gonzalez of Miami, Florida; from Paul Osimo of Providence, Rhode Island; from Teresa Hernandez of Ramos Mejía, Buenos Aires, Argentina; from Monika Landy-Gyebnar of Veszprem, Hungary; from Michael Boschat of Halifax, Nova Scotia, Canada