DOUBLE FLYBY ALERT: Having delivered and deployed the International Space Station's shiny new solar wings, the crew of shuttle Discovery undocked their spaceship from the ISS this afternoon at 3:54 p.m. EDT. Thus separated, she ISS and Discovery now form a bright "double star" in the night sky. Check the Simple Satellite Tracker to see if you are favored with a flyby before Discovery lands on Saturday, March 28th.
SIGNS OF SPRING: What are the signs of spring? They are as familiar as a blooming Daffodil, a songbird at dawn, a surprising shaft of warmth from the afternoon sun. And, oh yes, don't forget the aurora borealis: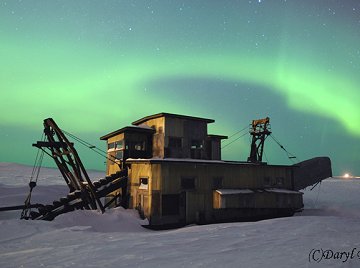 "I went to Nome on March 21st to shoot the finish of the Iditarod," says Alaska photographer Daryl Pederson. "At this time of year you can almost bank on some Northern Lights--and there they were! The foreground is an old gold dredge, one of many that dot the landscape in the area."
Why "this time of year"? For reasons not fully understood, auroras love equinoxes (proof) and the Arctic Circle has been alive with Northern Lights since the beginning of Spring on March 20th. Browse the gallery for pictures of the ongoing display:
UPDATED: March 2009 Aurora Gallery
[previous Marches: 2008, 2007, 2006, 2005, 2004, 2003, 2002]
SLIVERS OF VENUS: Venus is moving almost directly between Earth and the sun and, en route, turning its night side toward Earth. Only a thin sliver of reflected sunshine is now visible along the planet's cloudy limb. Joe Ricci of Rochester, New York took this picture in broad daylight on March 24th: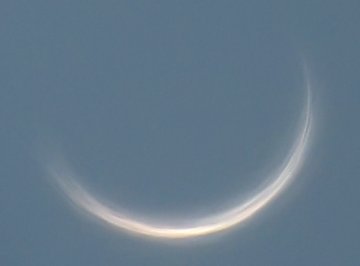 Photo details: Canon PowerShot SD750, 12.5-inch Cave Astrola telescope
"Venus was only 9.7° from the Sun and 1.4% illuminated," says Ricci. "The 'rough edges' of the crescent are caused by poor seeing--turbulence in the atmosphere over Rochester."
Venus makes its closest approach to the sun (just 8 degrees away) on Friday, March 27th. On that date, the luminous crescent will almost completely circumscribe the planet. The best time to look is during the day while the sun and Venus are high in the sky--but be careful! Do not let your telescope stray across the sun. Venus is beautiful, but you wouldn't want it to be the last thing you ever see.
more images: from Elias Chasiotis of Markopoulo, Greece; from Günther Strauch of Borken, NRW, Germany; from Peter von Bagh of Porvoo, Finland; from Jimmy Westlake of Mauna Kea, Hawaii; from Gary A. Becker of Coopersburg, PA; from Denis Joye of Boulogne, France; from Mohammad Soltanolkottabi of Esfahan, Iran; from Doug Zubenel of Cedar Creek, Kansas; from Becky Ramotowski of Tijeras, New Mexico; from Josef Laufer of Wuerzburg, Germany;
---
Comet Lulin Photo Gallery
[Comet Hunter Telescope: review] [Comet Lulin finder chart]
---