| | | |
| --- | --- | --- |
| Thirty-five new items have just been added to our Meteorite Jewelry collection. Browse the Space Weather Store for something out of this world. | | |
FAST-GROWING SUNSPOT: Breaking the temporary monotony of a blank sun, a new sunspot is growing rapidly in near the southeastern limb of the solar disk. Readers with solar telescopes, this is your chance to observe sunspot genesis.
ELECTRIC-BLUE CLOUDS: Last night, 82 km above Earth's surface where our planet's atmosphere meets the vacuum of space, a ray of sunlight hit a wispy, rippling bank of icy noctilucent clouds (NLCs). They lit up, glowing electric-blue, producing this apparition over Queensferry, Scotland: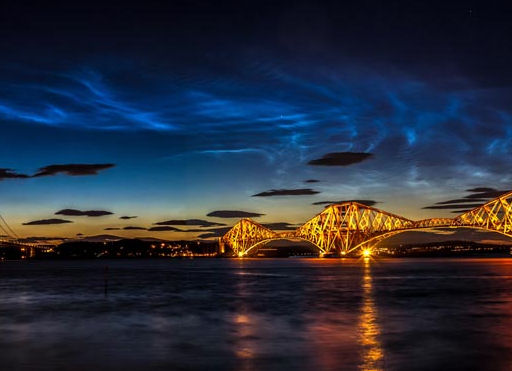 "A stitch of 2 images shows the broad extent of the display last night," says photographer Adrian Maricic. "It was bright and vivid, the best of the 2012 noctilucent cloud season so far for us in Scotland!"
Normally confined to Arctic latitudes, the intense NLCs of June 24-25, 2012, dipped all the way down to the south coast of England: "This was my first sighting of 2012," says Pete Lawrence, who photographed the southern edge of the bank from Selsey UK.
In recent years, the "habitat" of noctilucent clouds has been expanding. Breaking through the barriers of high-latitude that once kept them bottled up in the Arctic, NLCs have been sighted as far south as Colorado, Virginia, Kansas, and Utah. Here are some examples of sightings in the lower United States.
Observing tips: Look west 30 to 60 minutes after sunset when the sun has dipped 6o to 16o below the horizon. If you see luminous blue-white tendrils spreading across the sky, you've probably spotted a noctilucent cloud.
Realtime Noctilucent Cloud Photo Gallery
[previous years: 2003, 2004, 2005, 2006, 2007, 2008, 2009, 2011]
THE BUSY-NESS OVER YOUR HEAD: Earth orbit is crowded with nearly a thousand operating satellites and tens of thousands of spent rocket engines, splinters from satellite collisions, and other space debris. Space is a busy place. This picture taken by expert satellite watcher Marco Langbroek frames some of the madding crowd over Leiden, the Netherlands: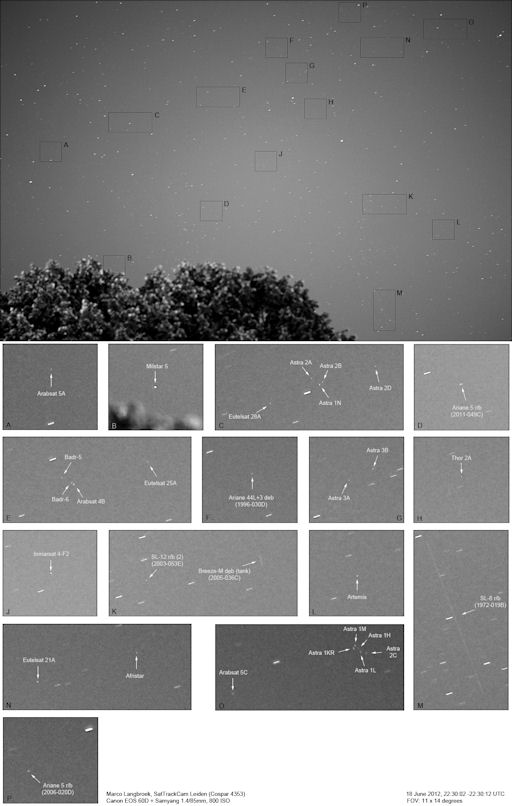 "This single image of a 10x14 degree-wide part of the geostationary belt was taken near midnight of June 18-19 and shows 30 satellites," says Langbroek. "Each black box contains one or more (mostly) geostationary satellites plus a few rocket bodies: 23 commercial geostationary satellites, one classified military geostationary satellite (Milstar 5), and 6 spent rocket boosters."
"The geostationary belt can be seen as a slanting line of objects diagonally over the larger image." he continues. "The geostationary belt (at declination -7.4 degrees for the Netherlands) never comes high in the sky for my country (which is at 52 N). All the objects on the picture have an elevation below 30 degrees. The image was taken from the center of Leiden--i.e. not an ideal dark sky. I did a slightly bad job in focussing, so the image is slightly less sharp (especially near the edges) than it could have been with this fine lens. Still, an amazing number of objects recorded in this small field of view!"
Realtime Space Weather Photo Gallery