| | | |
| --- | --- | --- |
| When is the best time to see auroras? Where is the best place to go? And how do you photograph them? These questions and more are answered in a new book, Northern Lights - a Guide, by Pal Brekke & Fredrik Broms. | | |
QUIET SUN: With only three small sunspot groups dotting the solar disk, and not one of them flaring, solar activity is low. NOAA forecasters estimate a scant 1% chance of M-flares on June 25th. Solar flare alerts: text, voice
GIGANTIC SPRITES OVER THE USA: With the arrival of summer, thunderstorm activity is underway across the USA. We all know what comes out of the bottom of thunderstorms: lightning. Lesser known is what comes out of the top: sprites. "Lately there has been a bumper crop of sprites," reports Thomas Ashcraft, a longtime observer of the phenomenon. "Here is one of the largest' 'jellyfish' sprites I have captured in the last four years." The cluster shot up from western Oklahoma on June 23, so large that it was visible from Ashcraft's observatory in New Mexico 289 miles away: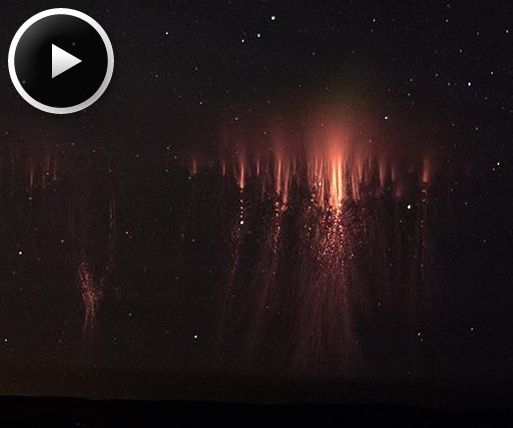 "According to my measurements, it was 40 miles tall and 46 miles wide. This sprite would dwarf Mt. Everest!" he exclaims.
Also in New Mexico, Jan Curtis saw a cluster of red sprites just one night later, June 24. "I've always wanted to capture these elusive atmospheric phenomena and last night I was finally successful."
Although sprites have been seen for at least a century, most scientists did not believe they existed until after 1989 when sprites were photographed by cameras onboard the space shuttle. Now "sprite chasers" regularly photograph the upward bolts from their own homes.
Ashcraft explains how he does it: "My method for photographing sprites is fairly simple.  First I check for strong thunderstorms within 500 miles using regional radar maps accessible on the Internet. There must be a locally clear sky to image above the distant storm clouds. Then I aim my cameras out over the direction of the thunderstorms (which will be hot red or purple on the radar maps) and shoot continuous DSLR exposures. I usually shoot continuous 2 second exposures but if there is no moon then I will shoot up to 4 second exposures. Then I run through all the photographs and if I am lucky some sprites will be there. It might take hundreds to usually  thousands of exposures so be prepared for many shutter clicks. I use a modified near infrared DLSR but any DLSR will capture sprites. Note that it does require persistence and a little bit of luck."
Inhabiting the upper reaches of Earth's atmosphere alongside meteors, noctilucent clouds and some auroras, sprites are a true space weather phenomenon. Now is a good time to see them.
Realtime Space Weather Photo Gallery
SPECTACULAR HALO OVER FINLAND: Looking at the sun can be a wincing, painful experience. Yesterday in Finland it was a rare delight. "On June 24th, multiple arcs and rings of light appeared around the sun," reports Ville Miettinen of Kuopio. "What a spectacular view!" He dashed inside and grabbed his camera to record the amazing vista: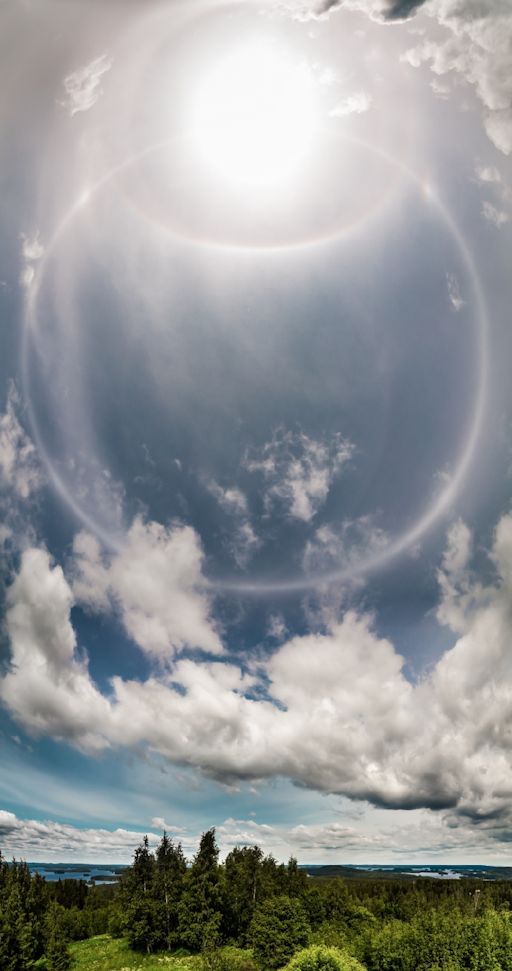 "They lingered in the sky for three whole hours," he says, "only disappearing when thick clouds intervened."
These luminous forms are called ice halos, because they caused by sunlight shining through icy crystals in cirrus clouds. Usually their forms are rather simple, like a solitary pillar or an uncomplicated ring. In this case, however, a complex assortment of halos criss-crossed the sky. In Miettinen's photo, we see a complete parhelic circle, a circumscribed halo, a supralateral arc, a 22-degree halo, and a pair of sundogs.
Vesa Vauhkonen of Rautalampi, Finland, saw even more forms. "These were very, very impressive halos--some of them quite rare," he says. Another set of photos from Jari Kankaanpää of Kauhava, Finland, may be the most astronishing of all.
The variety of halos they witnessed was caused by a corresponding variety of ice crystals with rare gem-like perfection and unusually precise crystal-to-crystal alignment. What are the odds? No one knows but, apparently, they're higher in Finland. Another place to look for rare halos is in the realtime gallery:
Realtime Space Weather Photo Gallery
AMATEUR ASTRONOMERS PHOTOGRAPH A DAMOCLOID: If you've never heard of a "damocloid", don't feel bad; even many professional astronomers don't know what they are. However, there are at least 50 of them moving through the Solar System. Named after protoptype object 5335 Damocles, a damocloid is an asteroid that follows a comet-like orbit. In fact, many damacloids turn out to be comets when, without warning, they suddenly sprout a tail. The latest to make this transformation is damacloid 2013 UQ4. Michael Jäger photographed it on June 23rd from his backyard observatory in Stixendorf, Austria: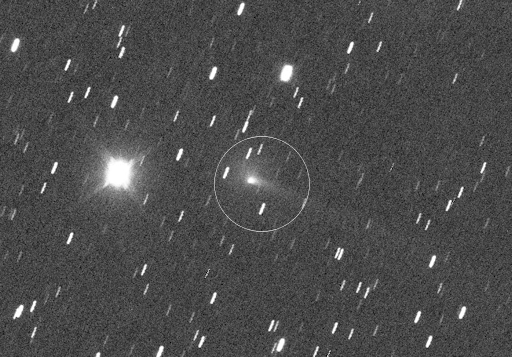 Discovered in the fall of 2013 by Catalina Sky Survey, 2013 UQ4 at first appeared to be a dark asteroid. On May 7, 2014, however, astronomers noticed a fuzzy atmosphere surrounding object's formerly-inert core. Barely two months later, it has sprouted a tail and is undeniably a comet. 2013 UQ4 swung by the sun in early June, a warm encounter that boosted the activity of its apparently icy nucleus. 2013 UQ4 is expected to brighten to binocular visibility (7th magnitude) by July 10th when it flies by Earth approximately 29 million miles (0.3 AU) away.
Want to see a damacloid with your own eyes? Sky maps and observing tips may be found in this article by David Dickinson.
---
---
---
Every night, a network of NASA all-sky cameras scans the skies above the United States for meteoritic fireballs. Automated software maintained by NASA's Meteoroid Environment Office calculates their orbits, velocity, penetration depth in Earth's atmosphere and many other characteristics. Daily results are presented here on Spaceweather.com.
On Jun. 25, 2014, the network reported 17 fireballs.
( 17 sporadics)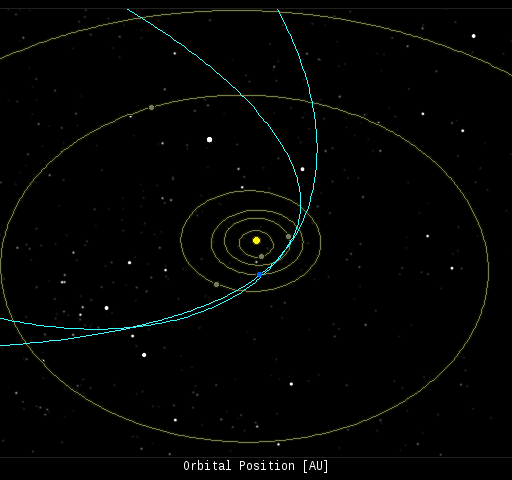 In this diagram of the inner solar system, all of the fireball orbits intersect at a single point--Earth. The orbits are color-coded by velocity, from slow (red) to fast (blue). [Larger image] [movies]
Potentially Hazardous Asteroids (
PHAs
) are space rocks larger than approximately 100m that can come closer to Earth than 0.05 AU. None of the known PHAs is on a collision course with our planet, although astronomers are finding
new ones
all the time.
On June 25, 2014 there were
1485
potentially hazardous asteroids.
Recent & Upcoming Earth-asteroid encounters:
| | | | |
| --- | --- | --- | --- |
| Asteroid | Date(UT) | Miss Distance | Size |
| 2014 MP | Jun 22 | 9.1 LD | 29 m |
| 2013 AG69 | Jul 8 | 2.7 LD | 15 m |
| 2011 PU1 | Jul 17 | 7.9 LD | 43 m |
| 2002 JN97 | Aug 2 | 61.4 LD | 2.0 km |
| 2001 RZ11 | Aug 17 | 34.2 LD | 2.2 km |
| 2013 WT67 | Aug 17 | 16.1 LD | 1.1 km |
Notes: LD means "Lunar Distance." 1 LD = 384,401 km, the distance between Earth and the Moon. 1 LD also equals 0.00256 AU. MAG is the visual magnitude of the asteroid on the date of closest approach.
| | |
| --- | --- |
| | The official U.S. government space weather bureau |
| | |
| --- | --- |
| | The first place to look for information about sundogs, pillars, rainbows and related phenomena. |
| | |
| --- | --- |
| | Researchers call it a "Hubble for the sun." SDO is the most advanced solar observatory ever. |
| | |
| --- | --- |
| | 3D views of the sun from NASA's Solar and Terrestrial Relations Observatory |
| | |
| --- | --- |
| | Realtime and archival images of the Sun from SOHO. |
| | |
| --- | --- |
| | from the NOAA Space Environment Center |
| | |
| --- | --- |
| | the underlying science of space weather |