| | | |
| --- | --- | --- |
| NEW AND IMPROVED: Turn your iPhone or iPod Touch into a field-tested global satellite tracker. The Satellite Flybys app now works in all countries. | | |
SPROUTING GRASS MOON: According to folklore, this week's full moon has a special name, the Sprouting Grass Moon, because it shines down on the new grasses of northern spring. Fun: Go outside after dark and look at the ground. Does the grass look green or blue? The answer may surprise you.
CORONAL HOLE: A dark hole has formed in the sun's atmosphere. NASA's STEREO-B spacecraft photographed it just hours ago: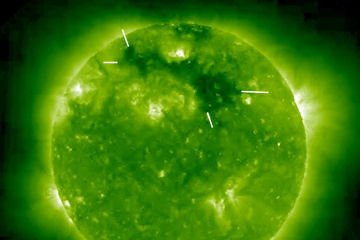 It's a "coronal hole," a vast region where solar magnetic fields have opened up and allowed some of the sun's atmosphere to escape. The runaway atmosphere is heading our way in the form of a solar wind stream. High-latitude sky watchers should be alert for auroras when it arrives on or about May 3rd.
April Northern Lights Gallery
[previous Aprils: 2009, 2008, 2007, 2006, 2005, 2004, 2003, 2002]
SPACE SHUTTLE DISCOVERY: Consider the following photos of space shuttle Discovery. The big image was taken at a range of just a few hundred meters by astronauts onboard the International Space Station. The smaller, inset image, which shows nearly as many details, was taken at a range of a few hundred thousand meters by French astrophotographer Theirry Legault of France. It is the finest ground-based photo of a space shuttle to date.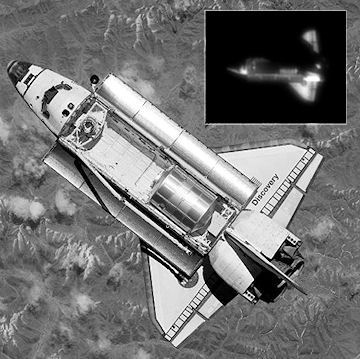 "I photographed Discovery on April 20th when it passed over France just a few hours before landing in Florida," says Legault. "Numerous details are recognizable: the elevons, the robotic arm--even the NASA logo!"
Legault, who is legendary among astrophotographers for his extraordinary shots of spacecraft and other thinggs, took the picture through a 10" Meade ACF telescope on a modified Takahashi EM-400 mount. The trick, he says, was using a green laser to pinpoint the spacecraft and a custom-made double joystick to track the shuttle as it glided across the sky. Click here for the full story.