| | | |
| --- | --- | --- |
| Listen to radar echoes from satellites and meteors, live on listener-supported Space Weather Radio. | | |
FIREBALL PHOTOS WANTED: Meteor expert Peter Jenniskens of NASA's Ames Research Center could use some help from the general public--in particular, photographers and business owners with security cameras in central California. He needs photos of the mini-van sized asteroid that exploded over the region on Sunday morning, April 22nd, at 7:51 am PDT. "Our goal is to determine the orbit of the object and to understand how this small asteroid fell apart when it entered the earth's atmosphere," he explains. [Got photos? Submit them here.]
Meteorite hunters, Jenniskens included, are starting to find pieces of the asteroid on the the ground. These samples were lying in the parking lot of Henningsen-Lotus Park, apparently crushed by a passing car: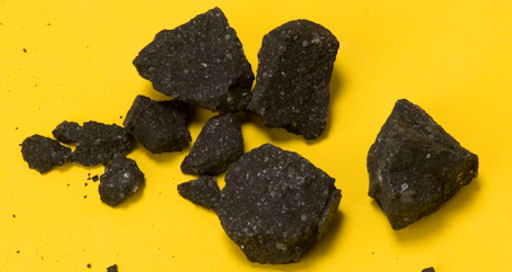 The meteorites landed not far from Sutter's Mill in El Dorado County, CA, the same place gold was discovered in the 19th century, triggering the California Gold Rush. Jenniskens likens the thrill of finding these space rocks to finding gold: " I think John A. Sutter must have felt the same way when he found the first gold nugget back in January of 1848."
"The meteorites appear to be CM chondrites," he continues. This would make the sample very primitive, possibly contiaining minerals and compounds preserved from a time when the solar system was very young. "I can not say more as the samples have not yet been analyzed. My main concern now is to recover perishable data of the fireball, such as video security camera footage."
More footage will help researchers answer questions like these: "Was this a rubble pile or a monolitihic block? Was the orbit very evolved, or could its semi-major axis perhaps still point us to the source region of CM chondrites in the asteroid belt?" Jeniskens wonders. "This is a rare opportunity to learn about the properties of a particular class of near-Earth objects."
FARSIDE ACTIVITY: For more than a week, solar activity has been low. On April 26th around 0600 UT, an active region on the farside of the sun broke the calm with a powerful eruption. NASA's Solar Dynamics Observatory recorded a massive cloud of plasma flying over the sun's southwestern limb: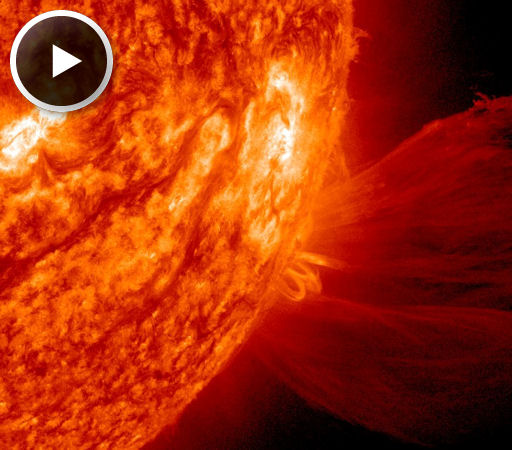 The same active region has since hurled three CMEs into space. The clouds will certainly miss Earth, but they might hit Mercury, which appears to be in the line of fire.
Would you like to inspect the farside of the sun and see the active region that exploded? Download the 3D Sun app for iPhone or Android.
AURORA WATCH: Earth's magnetic field is reverberating from three days of buffeting by a high-speed solar wind stream. Since April 23rd, auroras have been photographed in more than a dozen US states including Michigan, Nebraska, Kansas, Wisconsin, North Dakota, South Dakota, Iowa, Illinois, Minnesota, Colorado, Washington, and of course Alaska. Kameron Barge sends this picture from the North Fork of the Flathead River in Glacier National Park, Montana: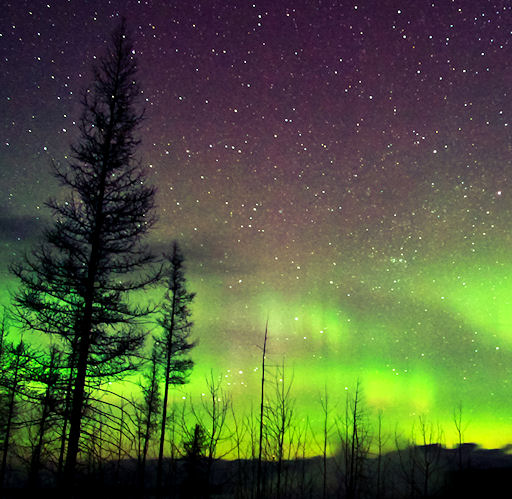 Sky watchers should remain alert for auroras. NOAA forecasters estimate a 25% chance of polar geomagnetic storms during the next 24 hours as the solar wind continues to blow. Aurora alerts: text, phone.
more images: from Zoltan Kenwell east of Edmonton, Alberta Canada; from Stephan Hoglund of Grand Marais Minesota; from Janusz Jakub Kuc of Horn Head, Co. Donegal, Ireland; from Tyler Scholle of Point no Point, Washington; from Kari Zoellner of Wasilla, Alaska