Where's Saturn? Is that a UFO--or the ISS? What's the name of that star? Get the answers from mySKY--a fun new astronomy helper from Meade.

LUNAR METEORS: Amateur astronomers, during Tuesday morning's lunar eclipse you can assist NASA by scanning the darkened Moon for explosions caused by Helion meteoroid impacts: full story. Typical flashes reach 6th magnitude--easy targets for mid-sized backyard telescopes. "The eclipse is a great time to look," says Bill Cooke of NASA's Meteoroid Environment Office, and he offers these observing tips.

LUNAR ECLIPSE: On Tuesday, Aug. 28th, the full Moon will slip into Earth's shadow for a 90-minute total eclipse. People on the Pacific side of Earth including much of North America (map) will have the best view as the Moon turns a dreamy shade of sunset red. Graphic artist Larry Koehn created this animation of the event: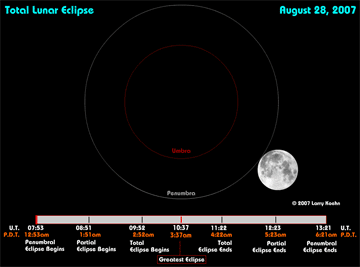 Click to view the full-sized animation
If you're in viewing range of the eclipse and you wish to photograph it, browse this gallery and check for successful photo settings used by photographers during the March 3, 2007, lunar eclipse. The action begins Tuesday morning around 0900 UT or 2 am Pacific Daylight Time; be ready!
Live eclipse webcasts: from Australia; from Las Vegas, Nevada;
BE ALERT FOR TURQUOISE: When you think of a lunar eclipse, the color that comes to mind is red. The core of Earth's shadow is reddened by sunlight filtering through the edges of our planet's atmosphere. When that shadow falls upon the Moon, the lunar landscape is reddened as well.
But during the March 3rd total lunar eclipse, many observers noted another color--turquoise. "What surprised me most were the incredible blue and turquoise shades at the edge of Earth's shadow," recalls Eva Seidenfaden of Trier, Germany, who took this picture: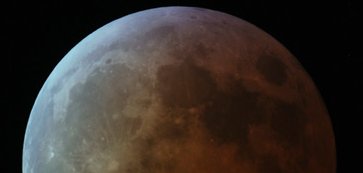 Photo details: Nikon D80 at the prime focus of a TeleVue NP-127 5-inch refractor
The source of the turquoise is ozone. Eclipse researcher Dr. Richard Keen of the University of Colorado explains: "Most of the light illuminating the moon passes through the stratosphere, and is reddened by scattering. However, light passing through the upper stratosphere penetrates the ozone layer, which absorbs red light and actually makes the passing light ray bluer!" This can be seen, he says, as a blue fringe around the red core of Earth's shadow.
To catch the turquiose, he advises, "look during the first and last minutes of totality." That would be around 2:52 am PDT (0952 UT) and 04:22 am PDT (11:22 UT) on Tuesday morning, Aug. 28th.
More examples of the turquoise fringe may be found here and here.
Lunar Eclipse Photo Gallery
[Night-sky Cameras] [Science@NASA: Dreamy Lunar Eclipse]