| | | |
| --- | --- | --- |
| All-inclusive Northern Lights trips in Tromsø, Norway. Small groups, big experiences! Highly qualified guides ensure unique and unforgettable adventures with a personal touch. Visit Explore the Arctic | | |
NEW YEAR'S AURORA FORECAST: The New Year could begin with a geomagnetic storm. NOAA forecasters say there is a chance of G1-class storming on Jan. 1, 2018, when a stream of solar wind is expected to buffet Earth's magnetic field. A full Moon on the same date will bathe Arctic landscapes in a silvery glow, contrasting beautifully with green auroras overhead. Free: Aurora alerts.
ACTIVE COMET PANSTARRS: Distant comets, sailing quietly through the cold recesses of the solar system beyond Mars, usually don't change much from night to night. Comet PanSTARRS (C/2016 R2) is different. It's changing by the hour. Click to play a 2-hour movie recorded on Christmas night by astrophotographer Michael Jäger of Jauerling, Austria, and watch what happens to the indicated cloud: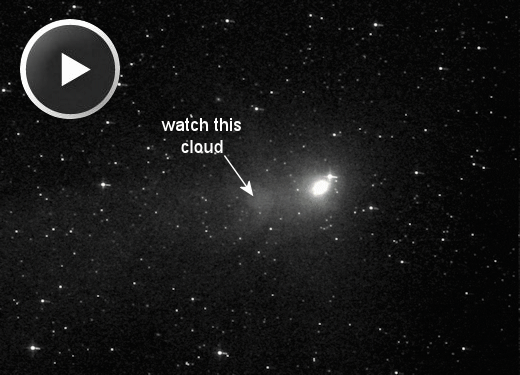 The movie shows a whole section of the comet's tail disconnecting and billowing away. Jäger has been tracking this comet for months, and this kind of activity is not unusual. On multiple occasions since November, he has recorded blobs moving away from the nucleus as well as apparent activity in the comet's inner jets--each time in just a few hours. Comet PanSTARRS (C/2016 R2) is remarkably active.
What's happening? Sunlight could be vaporizing fragile ices in the comet's core, exposing caverns of sublimating gas and puffing clouds into space. Or the comet might be experiencing magnetic storms. Magnetic storms in comet tails have been observed before--most famously in 2007 when NASA's STEREO spacecraft watched a CME crash into Comet Encke. Encke's tail was ripped into forms akin to those Jäger has been seeing in Comet PanSTARRS (C/2016 R2). Given the quiet state of solar activity, however, the former hypothesis seems more likely.

Comet PanSTARRS (C/2016 R2) is currently moving through the constellation Taurus, shining with the integrated brightness of an 11th magnitude star. This means it is a suitable target for large backyard telescopes equipped with modern deep-sky cameras. Experienced observers like Jäger may be able to see more action in the nights ahead. Monitoring is encouraged.
POLAR STRATOSPHERIC CLOUDS: Are we heading for a outbreak of polar stratospheric clouds (PSCs)? Winter has barely begun, yet sky watchers around the Arctic Circle have already witnessed several colorful apparitions. Moreover, the clouds appear to be spreading to lower latitudes. On Dec. 23rd, Alan C Tough saw their aurora-like colors peeking through a gap in ordinary rainclouds over Elgin, Scotland, a full 10 degrees below the Arctic Circle: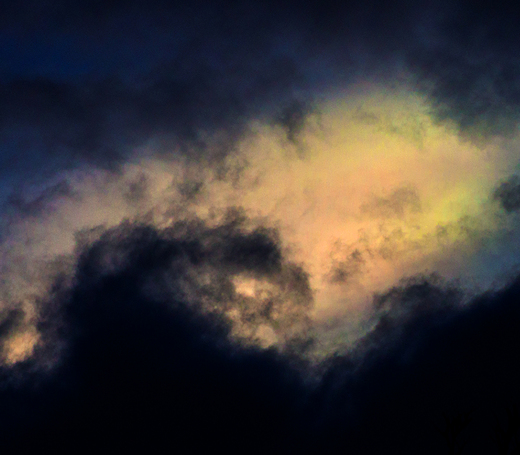 The next night, Dec. 24th, Ivo Dinsbergs saw them from Riga, Latvia--like Tough's sighting, they were 10 degrees below the Arctic Circle. "Type I PSCs are not very often visible at these latitudes," says Dinsbergs. "The last time when they were observed in Latvia was 7 years ago."

Polar stratospheric clouds are a sign of extraordinarily cold temperatures in the stratosphere. Colorfu PSCs require temperatures around -85º C to form. The stratosphere is drier than almost any desert on Earth. Only when the air up there becomes profoundly cold do widely-spaced water molecules coalesce to form ice crystals--the "stuff" of PSCs. High-altitude sunlight shining through these ice particles produces the clouds' characteristic bright iridescent colors.

In recent years, some photographers sending their images to Spaceweather.com have expressed their impression that PSCs are appearing earlier in winter and spreading over a greater range of latitudes. So far, the polar stratospheric clouds of 2017-2018 are conforming to those reports. Stay tuned for more sightings as northern winter deepens.
GREEN CHRISTMAS: Some people wish for a White Christmas. In Abisko, Sweden, aurora tour guide Sarah Skinner was hoping for a different color: Green. "I got my wish!" she says. "I headed out with my Lights over Lapland group on Christmas night, and we were bathed in auroras for more than 3 hours." At the peak of the display, the whole landscape turned green: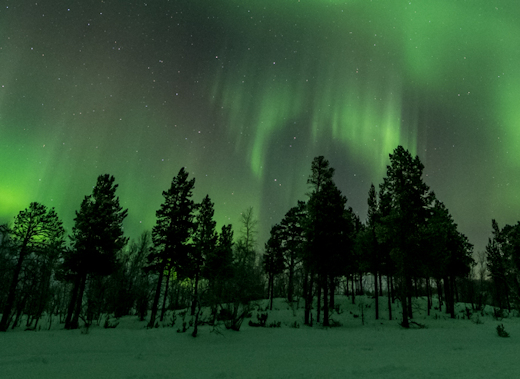 "I will never forget this tour," she says. "There were bright auroras overhead, one guest enjoying their birthday and, to top it off, a marriage proposal. Christmas doesn't get much better than that!"

The reason for the display, and possibly the marriage proposal, was the solar wind. A stream of gaseous material flowing from a hole in the sun's atmosphere hit Earth on Christmas Eve, causing energetic particles from space to rain down on our planet's upper atmosphere. Green auroras were observed all around the Arctic Circle. Free: Aurora alerts.
EXTENDED! STUDENT CHRISTMAS SPECIAL: For the holiday season only, we're reducing the cost of payload space on Earth to Sky Calculus balloons from $500 to only $299. Buy a ticket to space on or before Jan. 1st and your student can send an experiment, photo, or keepsake item to the stratosphere, completely supported by an Earth to Sky Calculus launch and recovery team.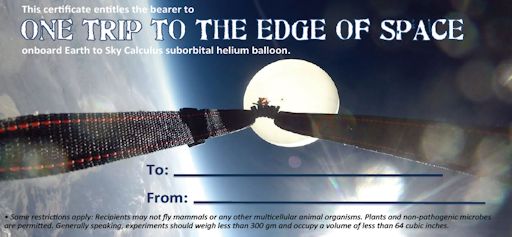 This is not only a great Christmas gift, but also a good kickstarter for science fair projects. Experiments will be flown and returned along with video footage, GPS tracking, temperature, pressure, altimetry and radiation data.
To take advantage of the discounted rate, payment must be received before Jan. 1st. However, the flight can take place at any time in the next 12 months.
Conditions: No mammals. Plants and non-pathogenic microbes are allowed. Generally speaking, experiments should weigh less than a few hundred grams and occupy a volume less than that of a school lunchbox. A brainstorming session is included with each certificate. Dr. Tony Phillips and other members of the Earth to Sky team will chat with recipients to help them craft an experiment that will work in the harsh environment of the stratosphere.
Far Out Gifts: Earth to Sky Store
All proceeds support hands-on STEM education
Realtime Space Weather Photo Gallery

---
Every night, a network of
NASA all-sky cameras
scans the skies above the United States for meteoritic fireballs. Automated software maintained by NASA's Meteoroid Environment Office calculates their orbits, velocity, penetration depth in Earth's atmosphere and many other characteristics. Daily results are presented here on Spaceweather.com.
On Dec. 27, 2017, the network reported 14 fireballs.
(11 sporadics, 2 December Leonis Minorids, 1 alpha Hydrid)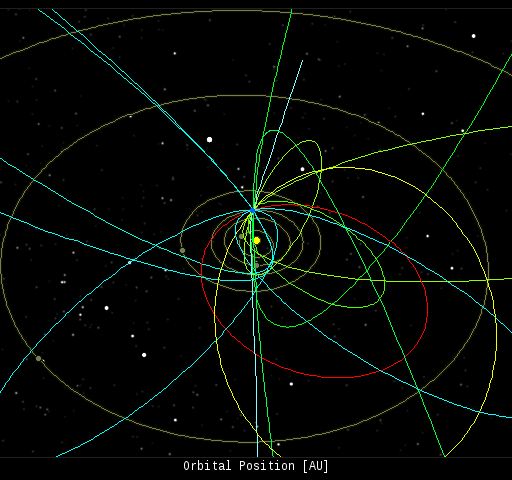 In this diagram of the inner solar system, all of the fireball orbits intersect at a single point--Earth. The orbits are color-coded by velocity, from slow (red) to fast (blue). [Larger image] [movies]
Potentially Hazardous Asteroids (
PHAs
) are space rocks larger than approximately 100m that can come closer to Earth than 0.05 AU. None of the known PHAs is on a collision course with our planet, although astronomers are finding
new ones
all the time.
On December 27, 2017 there were
1872
potentially hazardous asteroids.

Recent & Upcoming Earth-asteroid encounters:
Asteroid

Date(UT)

Miss Distance

Velocity (km/s)

Diameter (m)

2017 WX12

2017-Dec-21

10 LD

11.4

135

2017 XR60

2017-Dec-21

13 LD

6.2

48

2017 XQ60

2017-Dec-21

13.4 LD

15.7

46

2017 YE

2017-Dec-22

2.9 LD

4.7

7

2017 TS3

2017-Dec-22

18.1 LD

10.2

136

418849

2017-Dec-22

15.3 LD

17.4

257

2015 YQ1

2017-Dec-22

17.3 LD

11.1

9

2017 YW

2017-Dec-22

7.9 LD

8.3

16

2017 YS1

2017-Dec-24

1.9 LD

3.4

6

2017 WZ14

2017-Dec-24

7.6 LD

4.9

34

2017 YR3

2017-Dec-25

8.5 LD

6.5

30

2017 YR4

2017-Dec-25

18.3 LD

6.7

51

2017 YQ1

2017-Dec-26

5.1 LD

21.1

43

2017 YV4

2017-Dec-26

17.3 LD

9

39

2017 YD2

2017-Dec-27

2.2 LD

8.3

6

2017 YZ4

2017-Dec-28

0.6 LD

9.6

9

2017 XG1

2017-Dec-29

16.3 LD

9.9

38

2017 QL33

2017-Dec-30

13.3 LD

8.2

195

2017 YU1

2017-Dec-30

7.8 LD

7.6

20

2017 YD

2018-Jan-01

19.1 LD

4.1

30

2015 RT1

2018-Jan-02

19.7 LD

9

30

2017 YX4

2018-Jan-08

15 LD

7.3

65

2017 XT61

2018-Jan-08

11.3 LD

10.8

84

2004 FH

2018-Jan-10

20 LD

8.5

26

2017 YU3

2018-Jan-14

18 LD

12.9

53

306383

2018-Jan-22

14.4 LD

17.4

178

2002 CB19

2018-Feb-02

10.5 LD

15.6

36

276033

2018-Feb-04

11 LD

34

646

2015 BN509

2018-Feb-09

12.9 LD

17.7

257

1991 VG

2018-Feb-11

18.4 LD

2.1

7

2014 WQ202

2018-Feb-11

15.1 LD

19.8

62

2016 CO246

2018-Feb-22

15.3 LD

5.4

21

2017 DR109

2018-Feb-24

3.7 LD

7.4

11

Notes: LD means "Lunar Distance." 1 LD = 384,401 km, the distance between Earth and the Moon. 1 LD also equals 0.00256 AU. MAG is the visual magnitude of the asteroid on the date of closest approach.

| | |
| --- | --- |
| | Cosmic Rays in the Atmosphere |




Readers, thank you for your patience while we continue to develop this new section of Spaceweather.com. We've been working to streamline our data reduction, allowing us to post results from balloon flights much more rapidly, and we have developed a new data product, shown here:

This plot displays radiation measurements not only in the stratosphere, but also at aviation altitudes. Dose rates are expessed as multiples of sea level. For instance, we see that boarding a plane that flies at 25,000 feet exposes passengers to dose rates ~10x higher than sea level. At 40,000 feet, the multiplier is closer to 50x. These measurements are made by our usual cosmic ray payload as it passes through aviation altitudes en route to the stratosphere over California.

What is this all about? Approximately once a week, Spaceweather.com and the students of Earth to Sky Calculus fly space weather balloons to the stratosphere over California. These balloons are equipped with radiation sensors that detect cosmic rays, a surprisingly "down to Earth" form of space weather. Cosmic rays can seed clouds, trigger lightning, and penetrate commercial airplanes. Furthermore, there are studies ( #1, #2, #3, #4) linking cosmic rays with cardiac arrhythmias and sudden cardiac death in the general population. Our latest measurements show that cosmic rays are intensifying, with an increase of more than 13% since 2015:




Why are cosmic rays intensifying? The main reason is the sun. Solar storm clouds such as coronal mass ejections (CMEs) sweep aside cosmic rays when they pass by Earth. During Solar Maximum, CMEs are abundant and cosmic rays are held at bay. Now, however, the solar cycle is swinging toward Solar Minimum, allowing cosmic rays to return. Another reason could be the weakening of Earth's magnetic field, which helps protect us from deep-space radiation.

The radiation sensors onboard our helium balloons detect X-rays and gamma-rays in the energy range 10 keV to 20 MeV. These energies span the range of medical X-ray machines and airport security scanners.

The data points in the graph above correspond to the peak of the Reneger-Pfotzer maximum, which lies about 67,000 feet above central California. When cosmic rays crash into Earth's atmosphere, they produce a spray of secondary particles that is most intense at the entrance to the stratosphere. Physicists Eric Reneger and Georg Pfotzer discovered the maximum using balloons in the 1930s and it is what we are measuring today.

| | |
| --- | --- |
| | The official U.S. government space weather bureau |

| | |
| --- | --- |
| | The first place to look for information about sundogs, pillars, rainbows and related phenomena. |

| | |
| --- | --- |
| | Researchers call it a "Hubble for the sun." SDO is the most advanced solar observatory ever. |

| | |
| --- | --- |
| | 3D views of the sun from NASA's Solar and Terrestrial Relations Observatory |

| | |
| --- | --- |
| | Realtime and archival images of the Sun from SOHO. |

| | |
| --- | --- |
| | from the NOAA Space Environment Center |

| | |
| --- | --- |
| | fun to read, but should be taken with a grain of salt! Forecasts looking ahead more than a few days are often wrong. |

| | |
| --- | --- |
| | from the NOAA Space Environment Center |

| | |
| --- | --- |
| | the underlying science of space weather |

| | |
| --- | --- |
| | Reviews here can help you to pick up best memory foam mattresses. |

| | |
| --- | --- |
| | These links help Spaceweather.com stay online. Thank you to our supporters! |