AURORA SURPRISE: With little warning, a high-speed solar wind stream hit Earth yesterday, sparking a surprise display of Northern Lights around the Arctic Circle: gallery. The solar wind is ebbing now, reducing the chance for a repeat performance tonight.
BEAUTIFUL CONJUNCTION: Last night, Feb. 27th, the crescent Moon glided by Venus for a conjunction of rare beauty. Victor Bobbett watched the show from Paradise Valley, Arizona. "The Moon and Venus gathered near The Praying Monk on Camelback Mountain--it was an incredible sight!" He snapped this picture using a handheld digital camera: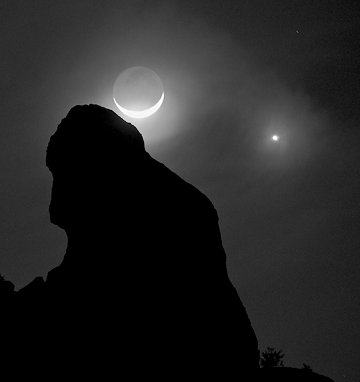 The conjunction was so pretty, it stopped traffic. " I was traveling through Iowa City, Iowa, when this beautiful arrangement unfolded in the evening sky," says Tom Wagner. "Quickly I found a place to park and photographed the spectacular pair alongside the Old Courthouse Building in Iowa City: photo."
The conjunction is breaking up now, but even with a widening gulf of sky between them, Venus and the crescent Moon are a pretty pair. Look west at sunset!
more images: from Kevin Jung of Grand Rapids, Michigan; from Pablo Lonnie Pacheco Railey of Monterrey, Mexico; from Ben Cooper of Ponce Inlet, Florida; from Melba Poole of Ft. Walton Beach, Florida; from Guy Blattmann of Saint-Etienne-de-Crossey near Grenoble, France; from Andreas D. Skjervold of Bodø, Norway; from Chris Peterson of Guffey, Colorado; from James W. Young on the RMS Queen Mary docked in Long Beach Harbor; from Bob Johnson of Saskatoon Saskatchewan; from Ron Hodges of Midland Texas; from Danny Ratcliffe of Scarborough, Queensland, Australia; from Paul Kinzer of Goodview, Minnesota; from Carl Turek of Grand Rapids, Michigan; from P.Nikolakakos of Sparta, Greece;
BLUE STAR, GREEN COMET: This morning, Feb. 28th, Comet Lulin executed a beautiful flyby of the first-magnitude star Regulus in Leo. The color difference between the blue star and the green comet was striking in this photo taken by Alessandro Dimai of Cortina d'Ampezzo, Italy: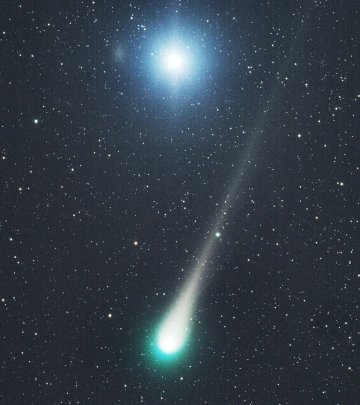 "The comet gliding by Regulus was a wonderful sight," he says.
The color of Regulus is a sign of heat: Regulus is a young, massive star that burns fiercely blue-hot. The color of Comet Lulin is a sign of cold: The comet's atmosphere contains cyanogen (CN, a poisonous gas) and diatomic carbon (C2)--two substances that glow green when exposed to sunlight in the cold vacuum of space. Browse the gallery for the latest color photos:
UPDATED: Comet Lulin Photo Gallery
[Comet Hunter Telescope] [Sky maps: March 1, 2]
---
UPDATED: February 2009 Aurora Gallery
[Previous Februaries: 2008, 2007, 2006, 2004, 2003, 2002]
---