| | | |
| --- | --- | --- |
| Turn your cell phone into a field-tested satellite tracker. Works for Android and iPhone. | | |
QUIET SUN: June is going to end on a quiet note. Solar activity is very low with only a few small scattered sunspots posing no threat for strong flares.
ASTEROID FLYBY: Asteroid 2011 MD flew past Earth on Monday, June 27th. At closest approach the ~10-meter space rock was only 12,000 kilometers (7,500 miles) above the planet's surface. NASA analysts said there was no chance it would strike Earth, and indeed it didn't.
Astronomers around the world monitored the flyby. Using a remotely-controled telescope in Cerro Tololo, Chile, Joe Pollock of Appalachian State University obtained this light curve: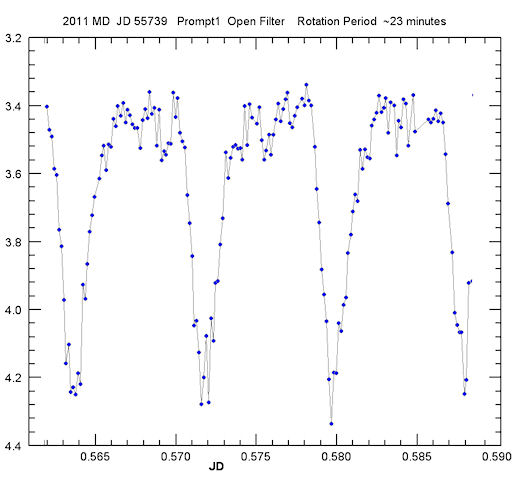 "The brightness variations are due to the asteroid's spin," explains Pollock. "It appears to be rotating with a 23.3 or 11.6 minute period."
UPDATE: A dramatic video recorded by Andre Paquette of Ottawa, Canada, shows the brightness of the asteroid oscillating as it races among the stars. "My light curve is a good match to Cerro Tololo's," says Paquette.
more flyby movies and images: from Jure Skvarc of the Črni Vrh Observatory in Slovenia; from Marco Langbroek of Sierra Stars Obs., California; from Efrain Morales Rivera of Aguadilla, Puerto Rico; from Nick Howes of Siding Spring Australia; from Rafael Ferrando of the Observatory Pla d'Arguines in Segorbe, Spain; from Libor Vyskocil of the Observatory Upice in the Czech Republic; from Nick James of Chelmsford, UK; from Rolando Ligustri of Talmassons Observatory, Italy;
ELECTRIC BLUE STORKS: Electric-blue noctilucent clouds are rippling over Europe this week. In Poland, that means sky watchers should be alert for the silhouettes of storks: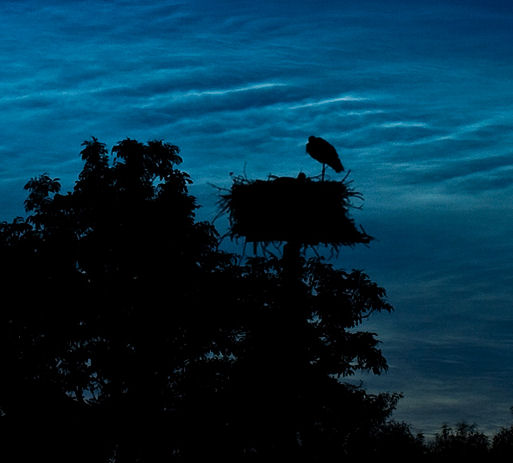 Marek Nikodem of Szubin, Poland, caught this specimen backlit by night-shining clouds on June 26th. "Each year in late spring-early summer, thousands of storks (Ciconia ciconia) arrive in Poland for nesting," he says. "Their arrival coincides with the summer onset of noctilucent clouds. Whenever young storks are born in the heavens, we can admire the NLCs!"
Noctilucent clouds form at the very top of Earth's atmosphere, at the edge of space itself where meteoroids can seed the formation of tiny ice crystals. When summer sunlight strikes these crystals--voila!--the sky glows electric blue. High-latitude observers should look for these strange clouds just after sunset or before sunrise; observing tips may be found in the 2009 NLC gallery.
more images: from Ivo Dinsbergs of Riga, Latvia; from John Houghton of Newtown Linford, Leicestershire; from Aurimas Dirse of Vilnius, Lithuania; from Barbara Grudzinska of Warsaw, Poland; from Richard Fleet of Pewsey Vale, Wiltshire, England;
---
June 2011 Aurora Gallery
[Aurora alerts: text, voice] [previous Junes: 2010, 2008, 2001]
---