| | | |
| --- | --- | --- |
| Metallic photos of the sun by renowned photographer Greg Piepol bring together the best of art and science. Buy one or a whole set. They make a stellar gift. | | |
CME IMPACT: A coronal mass ejection (CME) hit Earth's magnetic field at approximately 2145 UT on Nov. 28th. The impact was relatively weak and did not spark a strong geomagnetic storm.
RADIATION STORM AND CME UPDATE: A radiation storm that began on Nov. 26th when a magnetic filament erupted on the sun is subsiding. Nevertheless, the Earth-effects are just beginning. The same explosion that caused the radiation storm also hurled a CME into space at about 930 km/s (2 million mph). According to analysts at the Goddard Space Weather Lab, the CME will reach our planet on Nov. 28th at 17:21 UT (+/- 7 hours). Click to view an animated forecast track: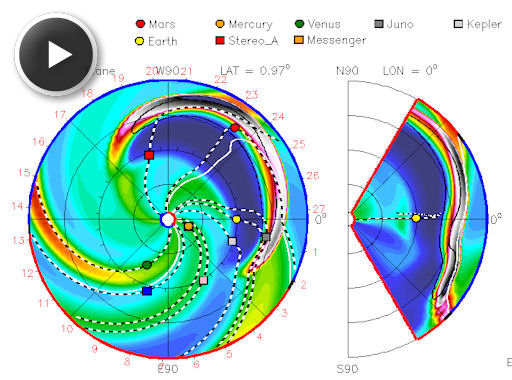 The impact of the cloud could trigger a geomagnetic storm. Indeed, NOAA forecasters estimate a 58% chance of severe storming around the poles when the CME arrives. High-latitude sky watchers should be alert for auroras after nightfall on Monday. Aurora alerts: text, phone.
SUNSET CONJUNCTION: On Saturday night, the slender crescent Moon passed by Venus in the fading glow of sunset. "Crystal clear skies offered the perfect view of the pair setting over this hillside in western Colorado," says Thad V'Soske, who captured the scene using a Canon 30D digital camera: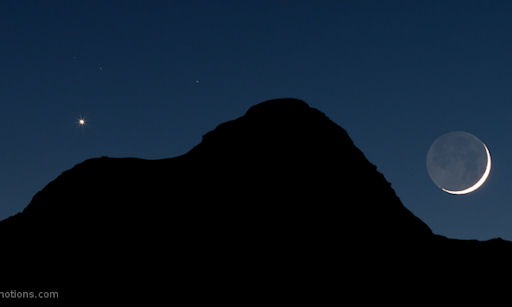 The Moon is moving away from Venus now--but it will be back. On Dec. 26th, the crescent Moon and Venus will reprise their close encounter for a lovely night-after-Christmas sky show. Browse the links below for a preview.
more images: from Mohammad Mehdi Asgari of Bayandor, Zanjan, Iran; from Fred Espenak of Portal, Arizona; from Amirreza Kamkar of Qayen, Iran; from Mitsuo Muraoka of Hatoyama, Saitama, Japan; from Francesc Pruneda of Batet de la Serra, Spain; from Erika Rix of Zanesville,OH; from Kosma Coronaios of Louis Trichardt, South Africa; from Joseph Kline of Tucson, Arizona; from David Blanchard of Flagstaff, Arizona; from Robert T. Smith of Stoneville, NC; from Jimmy Westlake of Twin Lakes, Colorado; from Mark Seibold of Portland Oregon; from Adrian New of Castroville, Texas; from Paul Johnston of West Point, New York; from Doug Schmutz of Hamblin Valley, Utah; from Jan Curtis of Santa Fe, NM; from Pete Strasser of Tucson, Arizona;
BLACK FRIDAY SOLAR ECLIPSE: On Friday, Nov. 25th, the new Moon passed in front of the sun, slightly off-center, producing a partial solar eclipse visible from Antarctica, Tasmania, and parts of South Africa and New Zealand. Mike Nicholson photographed the event about two minutes before sunset from Otaki Beach, NZ: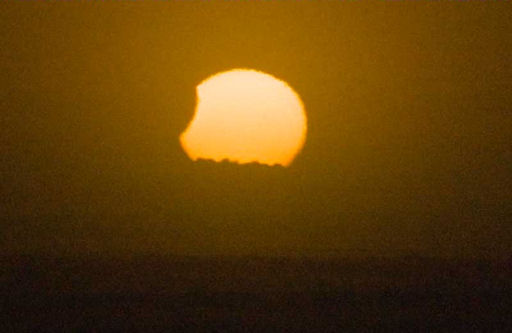 "We were experiencing gale force Sou'westerlies when I took the picture," says Nicholson. "Low clouds plus flying salt and sand provided a natural filter to reduce the glare of the sun."
Maximum coverage occurred about 100 miles off the coast of Antarctica where the sun turned into a slender 9% crescent. Will any pictures be submitted from that remote location? We're still waiting.
more images: from James of Christchurch, New Zealand; from Joerg Schoppmeyer of Signal Hill, Cape Town; from Bonar Carson of Dunedin, New Zealand; from Peter Sayers of Penguin, Tasmania, Australia