| | | |
| --- | --- | --- |
| NEW AND IMPROVED: Turn your iPhone or iPod Touch into a field-tested global satellite tracker. The Satellite Flybys app now works in all countries. | | |
WORM MOON: According to folklore, tonight's full Moon has a special name--the Worm Moon. It signals the coming of northern spring, a thawing of the soil, and the first stirrings of earthworms in long-dormant gardens. Step outside tonight and behold the wakening landscape. "Worm moonlight" is prettier than it sounds.
RADIO-ACTIVE SUNSPOT: Yesterday in new Mexico, a startling roar issued from the loudspeaker of amateur astronomer Thomas Ashcraft's radio telescope. "It was sunspot 1057," he says. "All day long it had been producing small radio bursts around 21 MHz. Then, at 1813 UT, it let loose a big one. The burst only lasted a minute, but it saturated the radios." Click here to listen.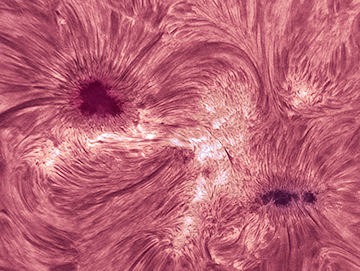 Photo credit: Rogerio Marcon of Campinas, Brazil [details]
The sounds you just heard were a mix of Type III and Type V radio emissions. They're caused by beams of electrons shooting out of the sunspot into the sun's atmosphere overhead. Not all sunspots produce radio emissions, but AR1057 is definitely "radio-active." "I'll be listening for more bursts in the days ahead," says Ashcraft.
You can, too, using your own radio telescope. NASA's Radio JOVE program will sell you a kit and teach you how to become an amateur radio astronomer all for less than $200.
more images: from Eric Roel of Valle de Bravo, Mexico; from Phillip Jones of Frisco, Texas; from John Minnerath of Crowheart Wyoming; from Francisco A. Rodriguez of Cabreja Mountain Observatory, Canary Islands;
LOW-FLYING METEOR: On March 19th at 11:19 Central Time, a meteoroid entered Earth's atmosphere over the southeastern United States and disintegrated in a flash as bright as the crescent Moon. To the human eye, it appeared to be a garden-variety fireball, the kind that appears almost every clear night, but NASA cameras had a different story to tell. Scroll past the fireball snapshot for details.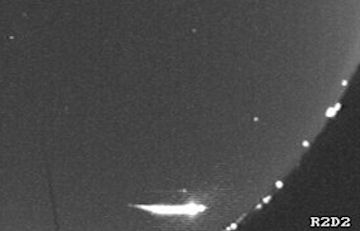 "This was an unusually low-flying meteor," says Bill Cooke of NASA's Meteoroid Environment Office. Cooke and colleagues operate a pair of all-sky cameras, one in Huntsville, Alabama, and another in Chickamauga, Georgia. Both cameras caught the fireball, allowing rapid triangulation of its flight path. "It was first recorded at an altitude of 72.9 km (45.3 miles) and burned up at an altitude of 32.5 km (20.2 miles)."
That's low. Most meteoroids disintegrate around 70 to 80 km high. This one held together for a much deeper descent. "It had a lot of structural integrity. Maybe it was a metallic object," speculates Cooke. "Based on the brightness and velocity of the fireball, I estimate a mass of about 10 kilograms and a diameter of ~20 centimeters - a decent size!"
Cooke's meteor mini-network is "smart." When both cameras catch a fireball, the system's software springs into action and calculates a flight path and orbit for the meteoroid. Cooke receives an email alerting him to interesting events that might otherwise have gone unnoticed. "In the near future, we plan to expand our network along the eastern seaboard of the United States," notes Cooke. "With smart cameras on duty, who knows what we might find?"
---
March Northern Lights Gallery
[previous Marches: 2009, 2008, 2007, 2006, 2005, 2004, 2003]