| | | |
| --- | --- | --- |
| Can you drop a probe on a comet? A new iPhone game from NASA's Jet Propulsion Laboratory puts you in control of the Rosetta spacecraft as it prepares to intercept Comet 67P/Churyumov-Gerasimenko. Download it now. | | |
IS IT SNOWING MICROBES ON ENCELADUS? As NASA's Cassini spacecraft completes its deepest-ever pass through the plumes of Enceladus, researchers are wondering if it might be snowing microbes there. The idea is not so far-fetched as evidence mounts for a "uniquely accessible" habitable zone on Saturn's icy moon. [full story]
RETURN OF THE SUNSPOT: Sunspot AR1429, the source of many strong flares and geomagnetic storms earlier this month, is about to re-appear following a two-week trip around the backside of the sun. Magnetic loops towering over the sun's NE limb herald the sunspot's approach: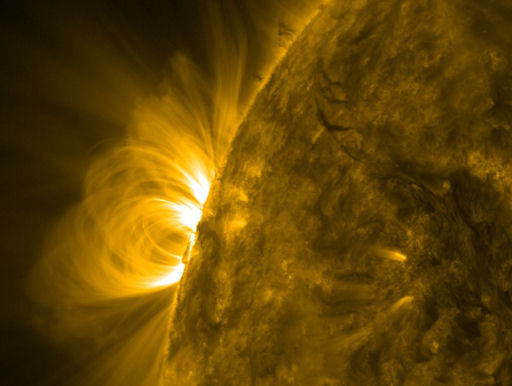 Earlier today, NASA's Solar Dynamics Observatory photographed plumes of plasma rising and falling over the limb: movie. Moreover, a pair of solar flares (C5- and C7-class) in the sunspot's towering magnetic canopy caused waves of ionization to ripple through the high atmosphere over Europe.
While sunspot AR1429 was transiting the farside, it erupted multiple times. Between March 23rd and March 27th, the Solar and Heliospheric Observatory (SOHO) recorded four coronal mass ejections, each racing away from the sun faster than 3 million mph: movie. Collectively, these events suggest AR1429 might still be capable of potent solar activity. Stay tuned. Solar flare alerts: text, phone.
AURORA SURPRISE: No one predicted this: On March 27th, Northern Lights descended all the way south to Nebraska. Click to view a movie of the display, photographed by Chris Allington of Crofton, NE: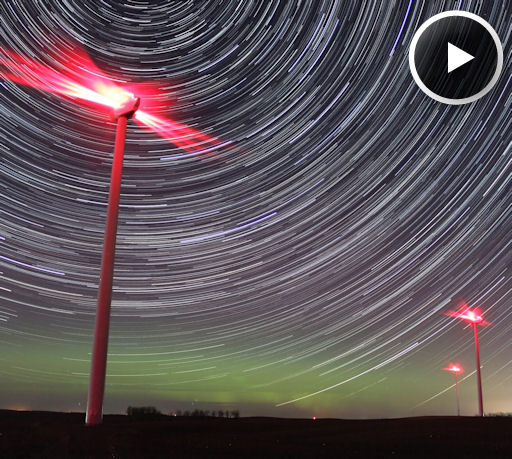 "I certainly didn't expect to see anything, but the plots were interesting enough to get me out investigating the northern sky with my camera," says Allington. "Suprisingly, around 9:30pm local time I could see the color of auroras in the viewfinder, so I decided to head to a wind farm near my house. The display became much more vibrant and lasted nearly 4 hours from 10pm to 2am. It's not often that auroras are hardly in the forecast and we see them as far south as NEBRASKA! "
What happened? The interplanetary magnetic field (IMF) tipped south and opened a crack in Earth's magnetosphere. Solar wind poured in to fuel the display. More high-latitude auroras are possible tonight. NOAA forecasters estimate a 30% chance of polar geomagnetic activity as the solar wind continues to blow. Aurora alerts: text, phone.
more images: from Nenne Åman of Arjeplog Northern Sweden; from Randy Halverson of Kennebec, South Dakota; from Paul Martin of Ballintoy Harbour, Antrim coast, N.Ireland; from Claus Vogel of Pelly Crossing, Yukon; from David Done of Anzac, Alberta Canada; from Ray Mckenzie of Saskatoon, Saskatchewan, Canada; from Dirk Obudzinski of Eagle Summit, Alaska; from Adrian Maricic of Loch Leven, Fife Scotland; from Mark Shaw of Dungiven, Northern Ireland; from Martin McKenna of Ballintoy Harbour, Co. Antrim Coast, N. Ireland; from Chris Allington of Crofton, Nebraska;
---
February 2012 Aurora Gallery
[previous Februaries: 2011, 2010, 2009, 2008, 2007, 2006, 2004, 2003, 2002]