| | | |
| --- | --- | --- |
| NEW AND IMPROVED: Turn your iPhone or iPod Touch into a field-tested global satellite tracker. The Satellite Flybys app now works in all countries. | | |
SUBSIDING STORM: A geomagnetic storm (Kp=5) that lasted for more than 9 hours on May 29th is subsiding now and the chances for auroras are subsiding with it. The next storm is due on May 31st or June 1st when a solar wind stream is expected to hit Earth's magnetic field. Stay tuned.
SPACE PLANE X-37B: The US Air Force's X-37B space plane is making a series of passes over North America this weekend. It shines about as brightly as the stars of the Big Dipper as it glides across the night sky. Last night, Dan Bush caught it crosssing paths with another satellite over Albany, Missouri: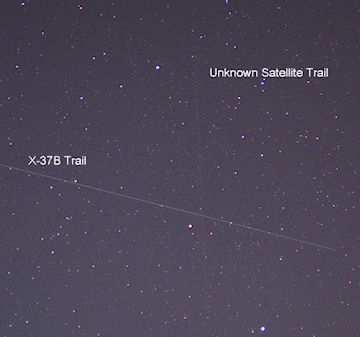 "This is a 30 second exposure with my Nikon D90," says Bush. "I could see the X-37B despite the bright moonlight."
At least one observer has witnessed an "X-37B flare." As the space plane soared over Bradenton, Florida, on May 25th "it brightened to magnitude -0.8, about twice the brightness of Arcturis," reports Scott Ferguson. Probably he caught some sunlight glinting from the space plane's solar arrays. Such a flare would have made the space plane instantly visible even from light-polluted urban areas.
Readers, turn your cell phone into a space plane tracker or check our Simple Satellite Tracker for flyby times. And be alert for flares.
more X-37B images: from Val Germann of Jefferson City, Missouri;from Gary of Fort Davis, Texas; from Jason Czech of Brimfield, Massachusetts
JUPITER-ISS CONJUNCTION: Earlier today over Athens, Greece, the International Space Station (ISS) had a conjunction with Jupiter ... in broad daylight. Amateur astronomer Anthony Ayiomamitis recorded the flyby: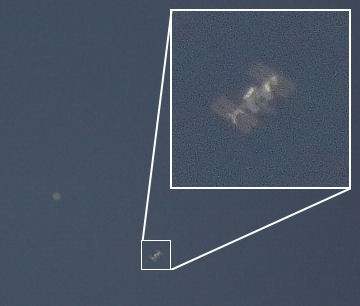 The trick, says Ayiomamitis, was focusing. "Focusing the telescope was very difficult against the mostly-blank blue sky. And there were no big sunspots I could use to fine-tune the focus by observing the sun. I got very lucky!"
His photo shows that with ISS construction now mostly complete the space station subtends an angle bigger than the biggest planet. "Jupiter has an apparent diameter of 37.5 arcseconds, which is second to the passing ISS at 42.1 arcseconds," he notes.
Last week he also photograpphed the space station transiting the sun. "Broad daylight is an interesting time for ISS photography," he says. Blue-sky transit forecasts may be found at calsky.com.
---
May 2010 Aurora Gallery
[previous Mays: 2008, 2005, 2004, 2003, 2002] [aurora alerts]