| | | |
| --- | --- | --- |
| Turn your cell phone into a field-tested satellite tracker. Works for Android and iPhone. | | |
SUN SHOW: Today, amateur astronomers are monitoring a magnificent prominence slowly arcing over the sun's northwestern limb. The magnetic loop in these images is probably connected to active sunspot 1271, which has just rotated over the limb onto the far side of the sun. Readers with solar telescopes are encouraged to monitor developments.
CHANCE OF AURORAS: NOAA forecasters estimate a 25% chance of polar geomagnetic activity today in response to the expected impact of an incoming solar wind stream. Arctic sky watchers should be alert for auroras.
Lance Parrish of Skiland, Alaska, photographed this display just after midnight on August 29th: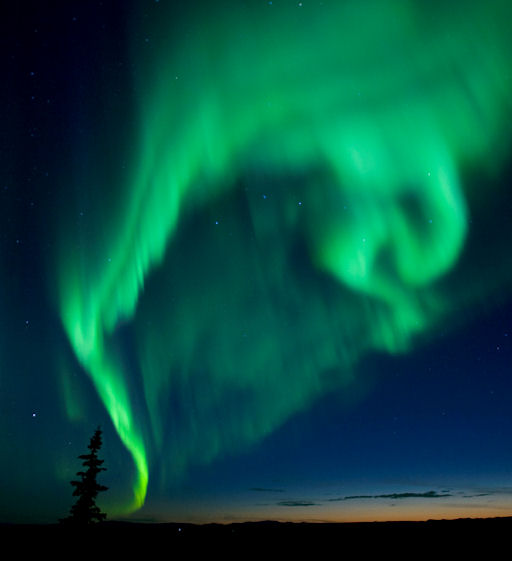 "Note the hint of sunset in the background," notes Parrish. "As summer winds down the midnight sun is retreating, allowing us to see Northern Lights again."
Teenage photographer Brandon Lovett, who just turned 18, witnessed the same display about 20 miles away in Fairbanks. "It was unbelievable! [The sky] burst into a colorful dancing display of green, white, pink, purple, and much more. These photos have not been re-touched; they are straight out of the camera."
August 2011 Aurora Gallery
[previous Augusts: 2010, 2009, 2008, 2007, 2006, 2005, 2004, 2003, 2002]
WEEKEND COMET SHOW: Over the weekend, incoming Comet Garradd passed beautifully close to globular star cluster M71. For all those amateur astronomers caught under hurricane clouds, John Chumack of Dayton, Ohio, recorded the encounter in the form of a 2.5 hour time-lapse movie:
"It was so cool watching the comet's tail cross the cluster," says Chumack. "I had a great view through my home-made 16-inch telescope."
At the moment, Comet Garradd can only be seen through a backyard telescope (recommended: The Comet Hunter). It is, however, approaching the sun and brightening. Recent projections place it at peak magnitude 6, on the threshold of naked-eye visibility, in February 2012. Because Comet Garradd is a first-time visitor to the inner solar system, it could behave in unexpected ways, perhaps exceeding those expectations. Stay tuned--and meanwhile browse the image links below.
weekend images: from Daniele Cipollina of Arquata Scrivia, Alessandria, Italy; from Nick Howes of Cherhill in Wiltshire UK; from Ulf Petersson of Öland, Sweden; from Doug Zubenel of Linn Co., Kansas; from Marek Harman of Vartovka observatory, Banská Bystrica, Slovakia; from Karl Beck of Observatory Michelbach, Austria; from Jimmy Westlake of Stagecoach, Colorado; from Marian Urbaník of Čadca, Slovak republic; from Becky Ramotowski of Tijeras, New Mexico.
comet links: finder charts, 3D orbit.