VOLCANO WATCH: Alaska's Mount Redoubt volcano is rumbling and geologists expect it to erupt "within days." The last time an Alaskan volcano blew its top (Kasatochi in August 2008), about a million tons of ash and sulfur dioxide flooded the stratosphere, causing fantastic sunsets around the northern hemisphere and possibly reducing Earth's temperature by a fraction of a degree. More SO2 is in the offing. Stay tuned for updates.
SUNSET SKY SHOW: For the second night in a row, Venus and the crescent Moon are gathered in beautiful proximity. Look southwest at sunset to see the two brightest lights in the night sky beaming side-by-side through the twilight: sky map.
Just hours ago, Mahdi Zamani used a Canon 30D to photograph the pair over Tehran, Iran: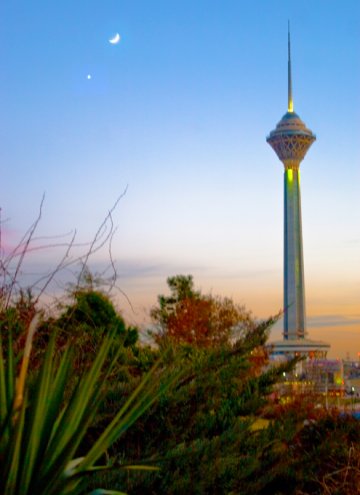 "The Moon and Venus looked very nice shining over Sanat square and the Milad tower," says Zamani. "Milad is the tallest tower in Iran and Sanad square is at the center of northwest Tehran."
more images: from Wienie van der Oord in the eastern Negev desert, Israel; from Minghelli of L'Escarène, Alpes Maritimes, France; from Patrick Jablonski of Normandie, France; from Eleazar Sánchez of Shanghai, China; from Mike O'Leary of El Cajon, California; from Larry Fischer of Topeka, Kansas; from Hal Schade of Rio Dulce, Guatemala; from Alfredo Garcia Jr of Torrance Beach, California; from Sam Cole of Austin, Texas;
SOLAR ECLIPSE: The jagged spires of Candi Prambanan, an ancient Hindu temple in Java, never fail to make a deep impression on visitors. An atmosphere of celestial expectation swirls through the grounds as the architecture itself draws attention to the heavens. It feels like something amazing is about to happen.
On Monday, Jan. 26th, something did. The disk of the sun turned into a ring: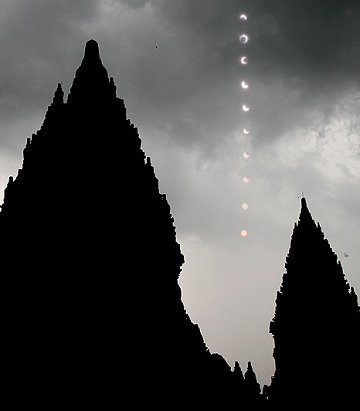 "It was an annular eclipse," explains photographer Sangku Kim of Merak, Indonesia. The Moon passed in front of the sun--dead center--covering 93% of the solar disk. "I photographed the event at 10 minute intervals using my Canon 5D and a Baader solar filter."
Similar "rings of fire," crescent suns, and strangely-shaped shadows were witnessed along an "path of annularity" spanning the Indian Ocean from the waters off South Africa to the islands of Indonesia, Malaysia and the Philippines. Browse the gallery for the latest photos:
Jan. 26 Solar Eclipse Gallery
[Submit your photos] [Safe solar telescopes]
---
UPDATED: Comet Lulin Photo Gallery
[Comet Hunter telescope] [sky map] [ephemeris]
---