SUNSPOT 1016: A ring-shaped sunspot numbered 1016 has emerged near the sun's equator. Its magnetic polarity identifies it as a member of old Solar Cycle 23. Until these old cycle sunspots go away, the next solar cycle will remain in abeyance. Readers with solar telescopes should point their optics here.
SPACE STATION FLARE: Just before sunrise on April 28th, Nicolas Biver watched the International Space Station (ISS) cross the starry sky above Versailles, France. Suddenly "the station flared," he says. "It was brighter than Venus!" A digital video taken through his 16-inch Dobsonian telescope reveals what happened: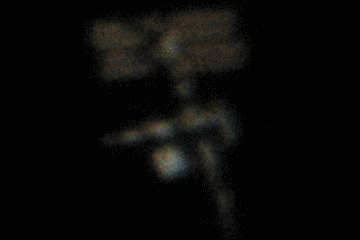 "Sunlight glinted off some of the station's solar panels," says Biver. "The reflection was intense."
Under construction for more than ten years, the ISS has only recently received its full complement of solar arrays. Space shuttle astronauts added a final set of "wings" in March 2009, boosting the surface area of the photovoltaic system to a whopping 16,000 square feet. With so much sun-collecting area, occasional glints are inevitable--and very bright.
Check the Simple Satellite Tracker to find out when the ISS might be flaring over your home town.
ZENITH HALO: "April 26th is the day here in Guam (13.5o N) that the sun passes directly overhead at local noon," says Tom Wittman of Andersen Air Force Base. "When the time came, I stepped outside and was treated to a beautiful ice halo." This photo, he says, was taken at the exact moment the sun reached zenith:
Zenith suns are not required for ice halos, but they make good ones: The Guam display is probably a combination of a 22o halo and a circumscribed halo, two halos that overlap for maximum luminosity when the sun is directly overhead.
"Later in the summer, as the sun returns south from the Tropic of Cancer, the islanders here in Guam will be treated to another zenith sun," adds Wittman. "I wonder what optical extra may make an appearance then?" Stay tuned.
---
April 2009 Aurora Gallery
[previous Aprils: 2008, 2007, 2006, 2005, 2004, 2003, 2002]
---