| | | |
| --- | --- | --- |
| Metallic photos of the sun by renowned photographer Greg Piepol bring together the best of art and science. Buy one or a whole set. They make a stellar gift. | | |
QUIET SUN: With no sunspots actively flaring, the sun's X-ray output has flatlined. Solar activity is low, and no strong flares are expected today. Solar flare alerts: text, voice.
SUPERSTORM SANDY: Anyone who doubts the value of space exploration should watch this video of hurricane Sandy approaching the east coast of the United States on Oct. 26-28. Without weather satellites and space-age sensors, residents in the storm's path wouldn't know what was coming until the storm surge arrived. While many lives were lost, weather satellites undoubtedly saved many more.
NASA's fleet of Earth-observing satellites is doing more, however, than just tracking the storm. It is collecting valuable scientific data on Sandy's inner workings: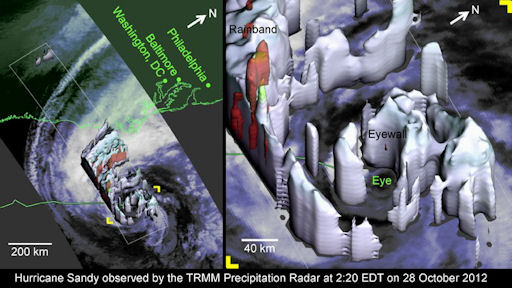 This graphic shows the structure of Sandy's eye illuminated on Oct. 28th by a radar onboard the TRMM (Tropical Rainfall Measurement Mission) satellite. TRMM and other satellites continued to probe the organization of the eye as Sandy merged with a cold front to become a deadly superstorm. Such data will help forecasters anticipate future storms even more accurately than this one.
Check NOAA's Storm Center for updated information about the storm.
HUNTER'S MOON ADDS TO STORM SURGE: A fraction of superstorm Sandy's awesome storm surge was contributed by the full Moon, which raised high tides just as the storm was making landfall. No pictures are available from the US east coast, where Sandy's clouds eclipsed the Moon. European observers, however, were able to confirm that the lunar disk was fully illuminated: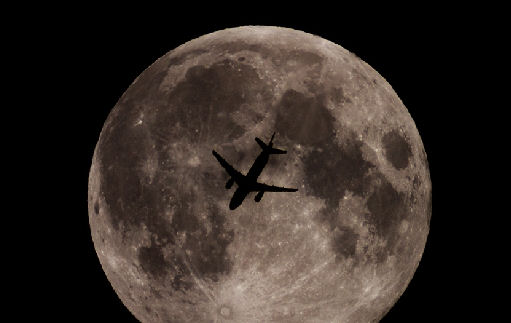 Antal Kocsis caught a British Airways Airbus flying in front of the Moon over Királyszentistván, Hungary. "The skies were clear and planes were flying," notes the photographer. Across the Atlantic, the situation was sharply different.
According to folklore, this is the Hunter's Moon, so-named by some Native American tribes to mark the time of late-autumn hunts they once conducted to top off their stores of food for winter. This year, "Storm Moon" is a better fit.
GROUND-HUGGING RAINBOW: Most rainbows arch up into the sky, but on Oct. 27th, Stefan Elieff of Punta Arenas, Chile, photographed one that seemed to hug the ground: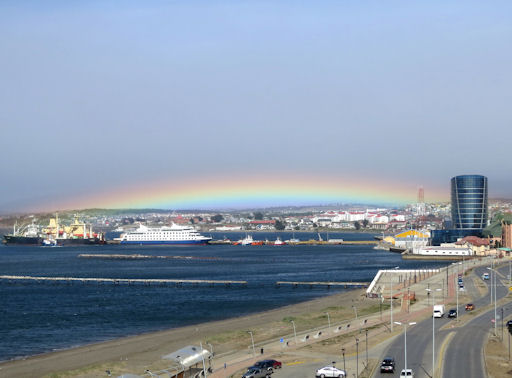 "Scattered rain clouds were rolling in low over the hills behind the city when this unusually low rainbow appeared," says Elieff.
Although low rainbows are seldom seen, they are actually quite common. They appear whenever raindrops are illuminated by a high-hanging sun. "A rainbow's center and the sun are always on opposite sides of the sky," explains atmospheric optics expert Les Cowley. "So when the sun is high, the rainbow is low. Indeed, as the sun climbs, the rainbow sinks--sometimes right into the sea."
Look for more atmospheric optics phenomena, rare and otherwise, in the realtime photo gallery:
Realtime Space Weather Photo Gallery
---
---
---
Realtime Noctilucent Cloud Photo Gallery
[previous years: 2003, 2004, 2005, 2006, 2007, 2008, 2009, 2011]