SPOTLESS SUN: Astronomers who count sunspots have announced that 2008 has become the "blankest year" of the Space Age. Sunspot counts are at a 50-year low, signifying a deep minimum in the 11-year cycle of solar activity. Get the full story from Science@NASA.
AURORA WATCH: A solar wind stream is buffeting Earth's magnetic field and causing geomagnetic storms around the Arctic Circle. "Stunning! The auroras took my breath away," says photographer "Tomal" of Tromsø, Norway. He took this picture before daybreak on Oct. 1st:
NOAA forecasters estimate a 30%-40% chance of more geomagnetic activity tonight as the solar wind continues to blow. Sky watchers from Scandinavia to Alaska should remain alert for auroras.
Sept. 2008 Aurora Gallery
[Aurora Alerts] [Night Sky Cameras]
FATHER AND SUN: The face of the sun has been remarkably blank lately, but the edge is a different story. Astronomers have been monitoring some of the best prominences in years. Larry Alvarez of Flower Mound, Texas, calls this one Father and Sun: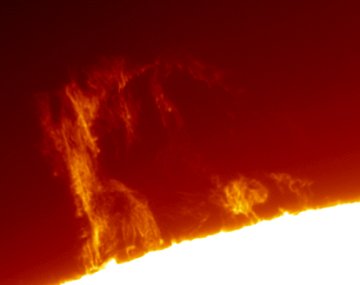 Click on the image to play the movie; DivX required
The image is just one frame of a must-see movie. To watch it, first download the free DivX encoder, then click here.
"The prominence was magnificent--one of the biggest I've seen in years," says Alvarez, who recorded the action using a Coronado 90mm H-alpha filter. "It was raining plasma during the entire 2-hour, 15-minute video."