AURORA WATCH: Arriving earlier than expected, a solar wind stream is buffeting Earth's magnetic field. High-latitude sky watchers should be alert for auroras tonight.
PROTO-SUNSPOTS: Magnetic fields are poking through the sun's surface and struggling to form a pair of new sunspots. Their locations are indicated on this morning's SOHO magnetic map of the sun: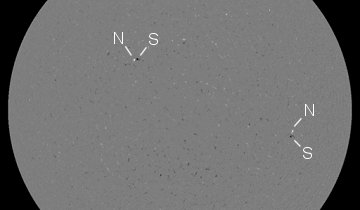 The magnetic orientation of the northern hemisphere proto-spot identifies it as a member of new Solar Cycle 24. The other spot near the equator may be a member of old Solar Cycle 23. During the long transition from one solar cycle to the next, it is not unusual to see members of both cycles on the sun at the same time.
Readers, if you have a solar telesscope, monitoring is encouraged.
more images: from Pavol Rapavy of Rimavska Sobota, Slovakia
GOODBYE, JULES VERNE: Yesterday, a 44,000-lb spacecraft plunged into Earth's atmosphere over the south Pacific Ocean, and this was the result: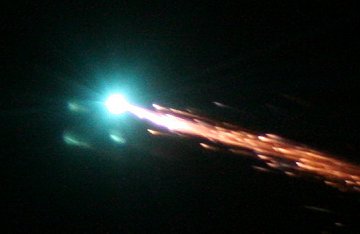 Photo credit: Jules Verne MAC observing campaign
Goodbye, Jules Verne. The robotic cargo carrier was deliberately guided into the atmosphere by European mission controllers, bringing an end to a successful 6-month mission.
In April 2008, Jules Verne performed the first-ever automated docking to the International Space Station (ISS), delivering more than 2 tons of supplies without any assistance from human controllers. The spacecraft quickly became a valuable part of the ISS. Several times Jules Verne used its engines to reboost the space station's orbit, once helping to dodge a piece of space junk, while the spacious interior of the cargo ship became an impromptu bedroom and "hygiene center" for the crew. Eventually, Jules Verne was re-filled with trash and on Sept. 29th it was sent back to Earth.
Scientists onboard a NASA DC-8 research plane photographed the reentry. They're studying how spacecraft and meteoroids break apart in Earth's atmosphere--and Jules Verne provided valuable data. Stay tuned for their findings.
---
Sept. 2008 Aurora Gallery
[Aurora Alerts] [Night Sky Cameras]