Where's Saturn? Is that a UFO--or the ISS? What's the name of that star? Get the answers from mySKY--a fun new astronomy helper from Meade.

A SUNSPOT EMERGES: The source of a powerful Dec. 31st explosion behind the sun's eastern limb has rotated into view and it is ... not very impressive. The minor active region is probably the decaying remains of once-giant sunspot 978, which spent the last two weeks transiting the far side of the sun. Unstable magnetic fields in the decaying spot may yet unleash another blast; NOAA forecasters estimate a 15% chance of M-class flares in the next 24 hours.

UPDATE: Today at 0958 UTC, the decaying active region produced a C1-class flare and another bright CME: movie.

NEW YEARS COMET: Tonight, after sunset, take your binoculars outside and scan the sky right above your head. You may find a little emerald fuzzball--Comet 8P/Tuttle. The comet is making its closest approach to Earth (24 million miles) on Jan. 1st and 2nd. Shining like a ~6th magnitude star, it is barely visible to the unaided eye, but a fine target for binoculars and backyard telescopes. Sky maps: Jan 1, 2.

On Dec. 30th, in the mountains of northern Italy, Giampaolo Salvato photographed the comet gliding by spiral galaxy M33: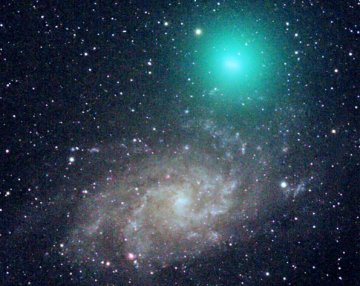 more galaxy-comet encounter photos
"This is a 2 x 5 minute exposure at ISO 1600," says Salvato, who took the picture using his backyard telescope and a Canon 5D digital camera.
The colors in this photo are truly heavenly: The galaxy is blue because of a great number of young and massive blue-white stars outlining the spiral arms. The comet, on the other hand, is green because of cyanogen (CN, a poisonous gas) and diatomic carbon (C2) present in the comet's atmosphere; both substances glow emerald-green when exposed to UV sunlight in the near vacuum of space.
Comet 8P/Tuttle Photo Gallery
[World Map of Comet Sightings]
[sky map] [ephemeris] [orbit] [comet binoculars]