Where's Saturn? Is that a UFO--or the ISS? What's the name of that star? Get the answers from mySKY--a fun new astronomy helper from Meade.

METEOR SHOWER: Earth is about to pass through a debris stream from near-Earth asteroid 2003 EH1, producing the annual Quadrantid meteor shower. Forecasters expect a brief but intense peak of 50+ meteors per hour over Earth's northern hemisphere sometime between 0200 UTC and 0700 UTC on Friday morning, Jan. 4th. (Subtract 5 hours to convert UTC to EST.) The timing favors observers in the eastern USA, Europe and western parts of Asia: sky map.

Winter storms frequently hide this shower from observers on the ground. To avoid such problems, a team of astronomers led by Peter Jenniskens of the SETI Institute will fly a plane above the clouds where they can train their cameras on the Quadrantids. Their data may reveal whether asteroid 2003 EH1 is a fragment of a long-dead comet: more.

ORION--WARP 5! "While at the San Antonio Astronomical Association's New Year Eve Star Party, I was taking a widefield image of Orion and thought that I would vary the focal length of the lens," says Bryan Tobias of Fredericksburg, Texas. "This is what I ended up with!"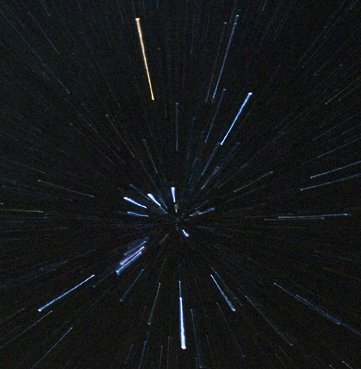 Photo details: Nikon D300, 14-24mm lens, f/2.8, ISO 1600 20 seconds
"I call this shot Number 1, Orion--Warp 5!" he says. "I used a Nikon D300 with a Nikon lens at all focal lengths from 14mm to 24mm."
This is a good time of year to see Orion--even at impulse speed. The constellation rises in the east at sunset beneath the campfire-red light of Mars: sky map. Watching Orion ascend, you may experience the little-known "constellation illusion." The idea is the same as the Moon illusion; constellations viewed near the horizon look abnormally large. Go outside tonight and look. Can you believe your eyes?
ANOTHER EXPLOSION? Will Comet 17P/Holmes explode again? That's the question on the minds of some astronomers today exactly 71 days after the spectacular brightening of Oct. 24, 2007, an event that made Holmes world famous. Seventy-one days is significant. To see why, we turn back the clock to the year 1892. (continued below)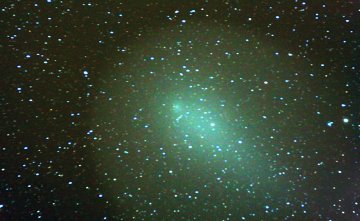 Above: Comet 17P/Holmes on Jan. 1, 2008. Photo credit: Hanno Falk of Flensburg, Germany. [more]
Comet Holmes was discovered on Nov. 6, 1892, by astronomer Edwin Holmes while he was making regular observations of the Andromeda Galaxy. He noticed the comet not far from Andromeda when it exploded--a brightening akin to that of Oct. 2007. It was quite a sensation as observers around the world suddenly were able to see the comet with the naked eye. Slowly, interest faded as the comet expanded and dimmed. Then, 71 days later on Jan. 16, 1893, Holmes exploded again! Deja vu?
No one knows why Holmes occasionally explodes. Theories range from tiny moonlets crashing into the comet's icy surface to great comet-caverns collapsing under the stress of sunlight. The interval 71 days may have no significance at all. But on this anniversary of a double explosion, it reminds us to keep an eye on Comet 17P/Holmes.
Finding the comet is easy. Tonight, after sunset, take your binoculars outside and scan the northern constellation Perseus: sky map. Holmes is readily visible as a big pale fuzzball near the variable star Algol. The view through a backyard telescope is dynamite!
---
Comet 8P/Tuttle Photo Gallery
[World Map of Comet Sightings]
[sky map] [ephemeris] [orbit] [comet binoculars]