| | | |
| --- | --- | --- |
| SPACESHIP SIGHTINGS: Would you like a call when the space station is about to fly over your backyard? Sign up for Spaceweather PHONE. | | |
SANDTRAPPED ROVER MAKES BIG DISCOVERY: While stuck in a sandtrap, Mars rover Spirit has made a discovery one researcher calls "supremely interesting." Science@NASA has the full story.
ARCTIC LIGHTS: In Tromsø, Norway, the long polar night has begun. The sun set in November and it won't be back until January. There is still a way, however, to catch some sun. Just hop in a plane: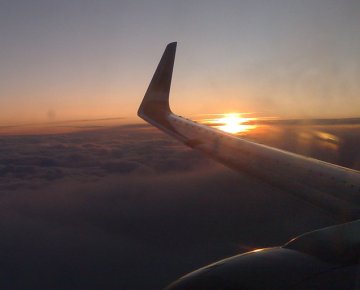 "I took this picture flying above Tromsø at midday on Dec. 2nd," says Thomas Hagen. From 30,000 ft, the sun can be seen over the northern horizon--a welcome dose of daylight.
Darkness returned when the plane landed, just in time for a light show of a different kind. A solar wind stream is approaching Earth and it could spark Northern Lights when it arrives on Dec. 3rd or 4th. High-latitude sky watchers should be alert for auroras.
MORNING MOON: Wake up early. Look west. That's what you should do on the mornings after a full Moon. It's the perfect time to catch the silver orb surrounded the special twilight-blue of dawn. Dewey Vanderhoff of Cody, Wyoming, followed these instructions on Dec. 2nd, and here is what he saw: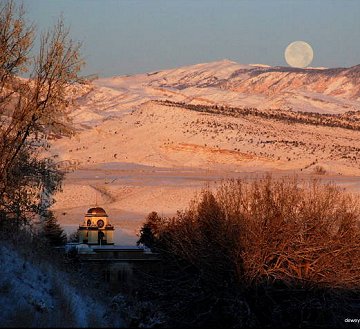 "The mountain is called Mooncrest Peak," says Vanderhoff. "Four inches of snow fell overnight and the temperature was very near 0° F at dawn. The golden cupola of the Park County courthouse is catching the day's first light at lower left."
A repeat performance will occur on Dec. 31st when the second full Moon of December--a "Blue Moon"--returns to the snow-covered crest at dawn. "I hope to be there," says Vanderhoff. It is a nice way to begin the day.
more full moon shots: from Tamas Ladanyi of Veszprem, Hungary; from Darrell Oake of Halifax NS Canada; from Azhy Chato Hasan of Erbil, Kurdistan, Iraq; from Yuichi Takasaka of Lumby, British Columbia, Canada; from Chris Allington of Omaha, Nebraska; from Rene M. Thibault of Chester, New Hampshire
---
November Northern Lights Gallery
[previous Novembers: 2008, 2007, 2006, 2004, 2003, 2002, 2001]
---