| | | |
| --- | --- | --- |
| SPACESHIP SIGHTINGS: Would you like a call when the space station is about to fly over your backyard? Sign up for Spaceweather PHONE. | | |
GEMINID METEOR SHOWER: Mark your calendar. The Geminid meteor shower peaks on Dec. 13th and 14th when Earth passes through a stream of debris from extinct comet 3200 Phaethon. The Geminids have been intensifying in recent years, and 2009 could be the best year yet. Forecasters expect 140+ meteors per hour under the dark skies of a new Moon. [sky map]
SANDTRAPPED ON MARS: NASA engineers are working mightily to free Spirit from a sandtrap in the Columbia Hills of Mars. During one recent effort on Nov. 28th, Spirit's stuck wheel turned enough to roll forward 1.4 meters. The rover itself, however, moved less than a millimeter: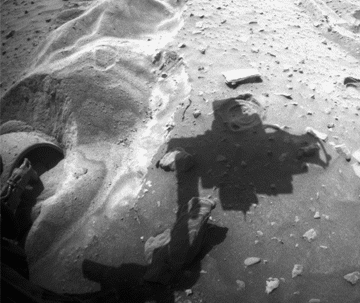 The view from Spirit's front hazard camera. Note the stuck wheel at left.
In this two-frame animation, the shifting of Spirit's shadow is caused not by locomotion, but rather by the sun moving overhead. All the turning really did was churn up more sand. Mission planners expect slow, if any, progress during similar drives in the weeks ahead. "The probability of success in escaping is uncertain," says NASA.
On the bright side, the soil Spirit is churning up turns out to be "supremely interesting," according to mission scientist Ray Arvidson of Washington University. It is rich in sulfates--"minerals formed in steam vents," he explains. "Steam is associated with hydrothermal activity – evidence of water-charged explosive volcanism. Such areas could have once supported life." If Spirit must be stuck, this is a good place to be. Stay tuned for updates on NASA's efforts to Free Spirit.
FULL MOON AT NOON: Full Moons are opposite the sun. That's why you can see a full Moon at midnight, but never at noon. It's an unbreakable rule. On Dec. 2nd, Brian Whittaker broke the rule. "I photographed the full Moon in the middle of the day!"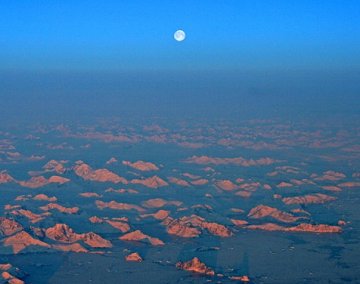 He took the picture from an airplane flying 34,000 feet above Greenland at a latitude just south of the Arctic Circle.
"It was lunchtime and the sun popped up in the south for its brief daily appearance," he says. "I looked due north, over the North Pole, and there was the Moon hanging over Japan--a full Moon at noon!"
"It is always a pleasure to fly through the Arctic," he adds. "You can see things from such a different point of view."
more points of view: from Rolando De Michiel of Bonnet Bay, New South Wales, Australia; from Ernie Mross of Boulder, Colorado; from P-M Hedén of Vallentuna, Sweden; from Pete Strasser of Tucson, AZ; from Doug Zubenel of Lenexa, Kansas
---
November Northern Lights Gallery
[previous Novembers: 2008, 2007, 2006, 2004, 2003, 2002, 2001]
---