TAURID METEOR SHOWER: Earth is entering a stream of debris from periodic Comet 2P/Encke, and this is causing the annual Taurid meteor shower. The shower has a broad maximum lasting from Nov. 5th through 12th. At most, only about 5 Taurids per hour streak across the sky, but what they lack in number they make up for in dazzle. Taurid meteors tend to be fireballs, very bright and slow. Look for them falling out of the constellation Taurus during the hours around midnight. [sky map] [Taurid counts: north, south]
Taurid photos: from John Chumack of Dayton, Ohio; from Brian Emfinger of Ozark, Arkansas; from Joe Westerberg of Joshua Tree National Park, California
GLANCING BLOW: Arctic sky watchers should be alert for Northern Lights on Nov. 5th. NOAA forecasters say there is a chance that a coronal mass ejection (CME) will hit Earth's magnetic field, and the impact could spark a high-latitude geomagnetic storm. The Solar and Heliospheric Observatory recorded this movie of the CME: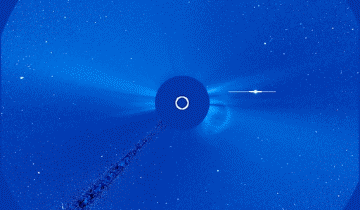 The billon-ton cloud was blown into space by departing sunspot 1029 on Oct. 31st. Normally, CMEs take only two or three days to reach Earth, but during the deep solar minimum of 2008-2009, the clouds have slowed to a veritable crawl. Crossing the sun-Earth divide now requires about five days, so an Oct. 31st CME should arrive on Nov. 5th. Because the blast was not squarely Earth-directed, the sluggish CME will deliver at most a glancing blow. NOAA forecasters estimate a 5% chance of strong geomagnetic storms around Earth's poles.
October Northern Lights Gallery
[previous Octobers: 2008, 2007, 2006, 2004, 2003, 2002, 2001]
WHAT ARE THE ODDS? A ray of light leaves the sun, travels 93 million miles, bounces off some moondust, angles toward Earth, travels another quarter million miles to Switzerland, where it threads a 10-meter hole in the Alps and passes through the lens of an onlooker's digital camera. This series of seemingly improbable events actually happened on Oct. 29th. The onlooker, Ricklin Andreas of Elm, Switzerland, took a picture to prove it: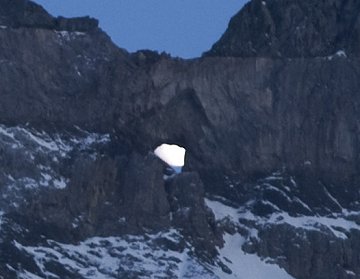 "The full Moon was shining through Martin's hole--a natural gap in the rock of the Tschingelhorn," explains Andreas.
What are the odds? It happens about twice a year. The sun itself shines through the gap on March 12/13 and Oct. 1/2. Likewise, the full (or nearly-full) Moons of March and October are in the right position to peek through the hole, although they don't do it on the same fixed dates as the sun because of complications caused by the Moon's 27.3-day, 5o-tilted orbit.
Andreas happened to be in the right place at the right time. To see the improbable, keep looking up!
---