NO AURORAS: A coronal mass ejection (CME) expected to deliver a glancing blow to Earth's magnetic field yesterday ... did not. The cloud either missed Earth or its impact was too feeble to notice. Geomagnetic activity remains low.
TAURID METEOR SHOWER: Earth is passing through a stream of debris from periodic Comet 2P/Encke, and this is causing the annual Taurid meteor shower. "On Nov. 5th, a Taurid meteor came streaking down over the famous Ship Rock near Sedona, Arizona," reports Marsha Adams, who took this picture using a Nikon D700: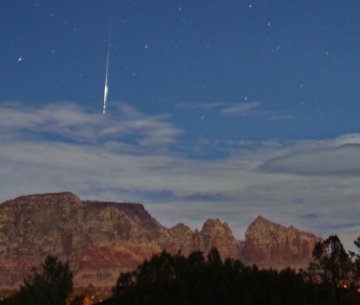 "It was visible in spite of the bright moonlight," she says.
The shower has a broad maximum lasting from Nov. 5th through 12th. At most, only about 5 Taurids per hour streak across the sky, but what they lack in number they make up for in dazzle. Taurid meteors tend to be fireballs, slow and very bright. Look for them falling out of the constellation Taurus during the hours around midnight. [sky map]
more photos: from John Chumack of Dayton, Ohio; from Brian Emfinger of Ozark, Arkansas; from Joe Westerberg of Joshua Tree National Park, California
FARSIDE EXPLOSION: Yesterday, something exploded on the far side of the sun. The blast hurled a coronal mass ejection (CME) over the sun's limb, recorded by coronagraphs on the Solar and Heliospheric Observatory (SOHO). Click on the image to launch a 14-hour time lapse movie: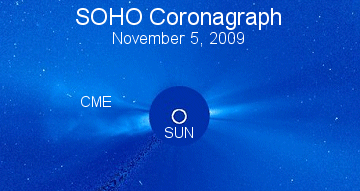 The source of the eruption is probably sunspot 1029, which is transiting the far side of the sun. Last week, when sunspot 1029 was visible from Earth, it quickly grew into the biggest and most active sunspot of the year, unleashing ten C-class solar flares in just a few days. Apparently, the action hasn't stopped. The sun's rotation will turn the sunspot back toward Earth about a week from now. If the sunspot holds together that long, we could experience some solar activity. Stay tuned.
---
October Northern Lights Gallery
[previous Octobers: 2008, 2007, 2006, 2004, 2003, 2002, 2001]
---