| | | |
| --- | --- | --- |
| SPACESHIP SIGHTINGS: Would you like a call when the space station is about to fly over your backyard? Sign up for Spaceweather PHONE. | | |
GEMINID METEOR SHOWER: Mark your calendar. The Geminid meteor shower peaks on Dec. 13th and 14th when Earth passes through a stream of debris from extinct comet 3200 Phaethon. The Geminids have been intensifying in recent years, and 2009 could be the best year yet. Forecasters expect 140+ meteors per hour under the dark skies of a new Moon. [sky map]
SOLAR ACTIVITY: Something has exploded on the farside of the sun. Late yesterday, Dec. 4th, a billion-ton coronal mass ejection (CME) billowed over the sun's western limb. Click on the image to view a movie of the cloud recorded by the Solar and Heliospheric Observatory: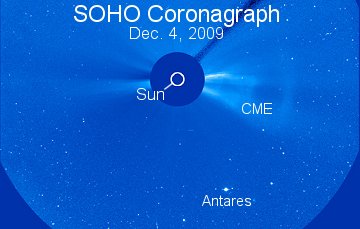 The blast site could be one of two farside active regions currently under surveillance by NASA's STEREO spacecraft, but those active regions don't seem to be in the right place to hurl a CME over the sun's western limb. The source might reveal itself in the days ahead as the sun's rotation turns unseen territory toward STEREO--or toward Earth. Stay tuned.
ORION AT THE BEACH: Last week, Grant Privett planted his camera and tripod in the sands of a beach on the Canary Islands. Off and on for 20 minutes, he opened the shutter to the eastern sky as moonlight washed over the waves and Orion rose into the night. Here is the result: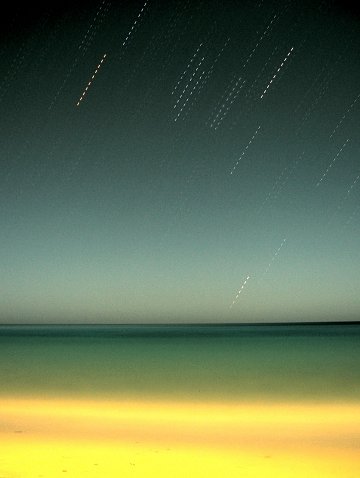 "The moon was waxing gibbous and produced flashes of light from breaking waves," says Privett. "All the features of the waves were evened out during the 20-minute shoot." Orion and Sirius show up as a series of broken star trails, each tiny arc corresponding to 60 seconds of open-shutter time. The sandy beach and moonlit waves combined with the stuttered constellations to produce an otherworldly ensemble.
It's that time of year. Orion the Hunter rises in the east just after sunset and seems to beckon to photographers to do something creative. Who's next?
---
November Northern Lights Gallery
[previous Novembers: 2008, 2007, 2006, 2004, 2003, 2002, 2001]
---