| | | |
| --- | --- | --- |
| SATELLITE FLYBYS APP: Turn your iPhone or iPod into a field-tested satellite tracker! Spaceweather.com presents the Satellite Flybys app. | | |
EXPLOSIVE MYSTERY: NASA is building a new space telescope named "NuSTAR" to answer a question that has been vexing astrophysicists for decades. Why won't the supernova explode? Get the full story from Science@NASA.
SUNSPOT CORPSE: After a two-week trip around the farside of the sun, sunspot 1035 has returned, but it not a sunspot anymore. Where there was once a dark-cored behemoth crackling with solar flares, there is now just a quiet splash of magnetic froth. Call it a "sunspot corpse":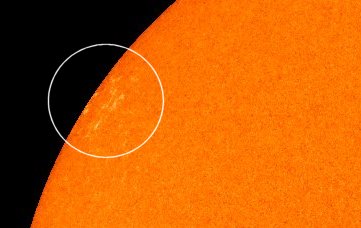 Image credit: Solar and Heliospheric Observatory/MDI
Because corpses do not count, today's sunspot number is zero. This is the first blank (spotless) sun of 2010. So far this year, the sun has been blank about 17% of the time--a sharp reversal from the 71% rate of blank suns in 2009. Is solar activity really increasing? If recent trends continue, a new sunspot should appear soon. Stay tuned.
more images: from Howard Eskildsen of Ocala, Florida; from Gianfranco Meregalli of Milano, Italy; from C. Swiger and J. Stetson of South Portland, Maine; from Ron Cottrell of Oro Valley, Arizona
BLUE FLASH SUNSET: On Jan. 1st, Brian Gold of Los Angeles took his family to the beach to see the first sunset of the New Year. They got more than they bargained for. "We stood on a little hill at Dockweiler Beach State Park and looked out over the water as the sun went down. There was a beautiful blue-green flash!" He took this picture using his Canon 5D: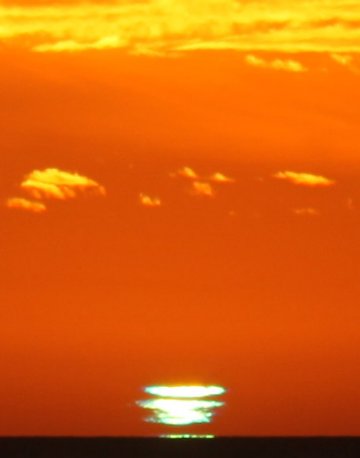 Atmospheric optics expert Les Cowley explains what happened: "California is a great place for sunsets like this one," he says. "The cold ocean current combined with warm air creates complex temperature inversions, warm air above cooler. Each inversion layer bends the sunset rays to make a mirage with three sun slices. Multiple inversions make a stack of 'solar pancakes.' The mirages vertically magnify the otherwise invisible green and blue rim on the sun's upper edge to make brilliant green - and if you are lucky - blue flashes."
"What a great way to start 2010," says Gold.
---
NEW: January Northern Lights Gallery
[previous Januarys: 2009, 2008, 2007, 2005, 2004, 2001]