| | | |
| --- | --- | --- |
| SATELLITE FLYBYS APP: Turn your iPhone or iPod into a field-tested satellite tracker! Spaceweather.com presents the Satellite Flybys app. | | |
EXPLOSIVE MYSTERY: NASA is building a new space telescope named "NuSTAR" to answer a question that has been vexing astrophysicists for decades. Why won't the supernova explode? Get the full story from Science@NASA.
SUNSPOT RESURRECTED: Old and decaying sunspot 1035, declared to be "a corpse" just yesterday, is showing signs of renewed life. Pete Lawrence sends this picture from his backyard observatory in Selsey, UK: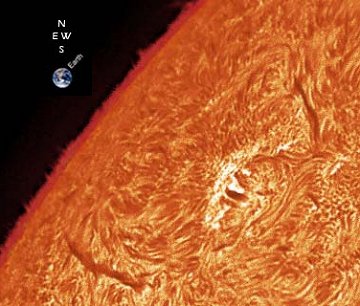 "A welcome view of the sun on a cold January day reveals the remains of AR11035 still alive and kicking," says Lawrence.
Beneath the waving filaments and bright magnetic froth ("plage"), a dark core is coelescing in the heart of the active region. That makes it a genuine sunspot again. NOAA has re-numbered the region "1040," but we will continue to refer to it by its original name, "1035." It is, after all, an old friend.
more images: from Emiel Veldhuis of Zwolle, the Netherlands; from Robert Arnold of Isle of Skye, Scotland; from Howard Eskildsen of Ocala, Florida; from Fabio Mariuzza of Biauzzo - Italy
COLD SUN: You know its cold when the rising sun shines through icicles ... in Florida. Mark Staples took this rare photo overlooking Little Lake Santa Fe near Waldo, FL, on Jan. 7th: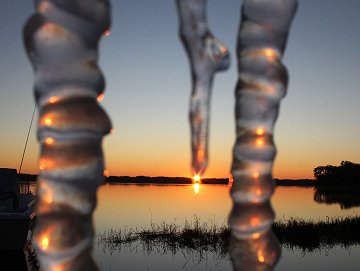 "The golden sunrise turned these colorless spikes of ice into something resembling the fiery trails we occasional see from here when NASA launches a space shuttle," says Staples. "The warmth of the sun quickly reduced these Florida-cicles, but it was a rare a beautiful sight while it lasted."
This is, however, just the tip of the icicle. The remarkable cold, which has struck not only the United States, but also England and China, is creating widespread displays of atmospheric optics. The sun shining through ice in the air produces sundogs, sun pillars, and a variety of luminous rings and arcs. Browse the links below for examples.
more images: from Evan Ludes of Omaha, Nebraska; from Tyler Burg of Omaha, Nebraska; from Dan Bush of Albany, Missouri; from Doug Zubenel of De Soto, Kansas; from Julia Ponce of Papillion, Nebraska; from Kyle George of Omaha, Nebraska
---
January Northern Lights Gallery
[previous Januarys: 2009, 2008, 2007, 2005, 2004, 2001]