| | | |
| --- | --- | --- |
| SPACESHIP SIGHTINGS: Would you like a call when the space station is about to fly over your backyard? Sign up for Spaceweather PHONE. | | |
METEOR RADAR: The US Air Force Space Surveillance Radar is scanning the skies above Texas. When a satellite or meteoroid passes overhead--ping!--there is an echo. Activity is picking up this week as Earth enters a stream of debris from extinct comet 3200 Phaethon, source of the annual Geminid meteor shower. Tune into Spaceweather Radio for live audio.
GEMINID METEOR WATCH: The Geminid meteor shower is getting underway. The peak won't arrive until Sunday night, Dec. 13th, but observers are already seeing meteors streak across the late-night sky. Elias Jordan reports from Derby, Kansas: "Last night, I went out with a comfortable chair and a nice warm blanket and quickly saw four meteors in only fifteen minutes of observing." He made this self-portrait before dashing back inside to escape the 3oF wind chill: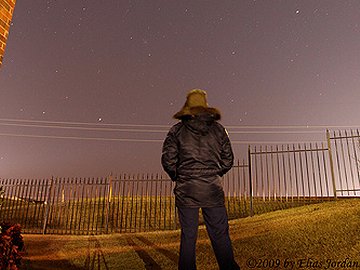 More Geminids were sighted in Santa Cruz, California, where Ed Sweeney caught two bright ones streaking through urban light pollution. "They seemed to come directly from Castor and Pollux," he says.
This is just the beginning. If forecasters are correct, meteor rates will climb to more than 100 per hour on Dec. 13th and 14th when Earth passes through the densest part of a debris stream from Geminid parent comet 3200 Phaethon. Get the full story from Science@NASA.
More Geminid resources:
AFTER THE STORM: Earlier this week, a powerful blizzard paralyzed parts of the US midwest. Mike Hollingshead of Blair, Nebraska, walked outside after the storm and this is what he saw: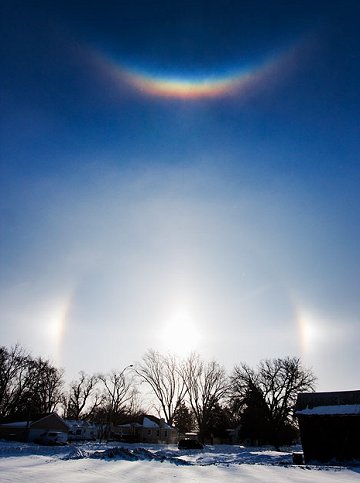 Sunlight shining through ice crystals had produced a bright pair of sundogs and a vivid circumzenithal arc. "These tend to appear on the backside of a storm's clearing line as ice crystals blow through the air," notes Hollingshead. "It's a beautiful sight but not a ton of fun to photograph at 5o F with winds blowing 40 mph."
Photographers, bundle up! More weather is on the way and there should be plenty to see after the storm.
---
December Northern Lights Gallery
[previous Decembers: 2008, 2007, 2006, 2005, 2001, 2000]
---