| | | |
| --- | --- | --- |
| SPACESHIP SIGHTINGS: Would you like a call when the space station is about to fly over your backyard? Sign up for Spaceweather PHONE. | | |
METEOR RADAR: Got clouds? If you can't see the Geminid meteor shower, try listening instead. The US Air Force Space Surveillance Radar is scanning the skies above Texas, and when a meteor passes overhead--ping!--there is an echo. Tune into Spaceweather Radio for live audio.
GEMINID METEOR WATCH: This weekend, Earth is passing through a stream of debris from extinct comet 3200 Phaethon, source of the annual Geminid meteor shower. Forecasters expect more than 100 meteors per hour to fly out of the constellation Gemini when the shower peaks on Dec. 13th and 14th. For most observers, the best time to look will be from 10 pm local time on Sunday night to dawn on Monday morning.
Click on the image to watch an early-arriving Geminid streak past the Moon on Dec. 9th: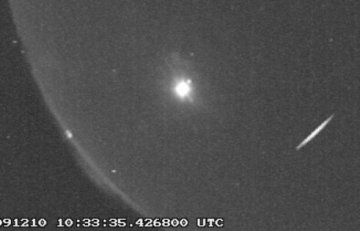 "That was a good one," says NASA astronomer Bill Cooke, who recorded the meteor using an all-sky camera at the Marshall Space Flight Center in Huntsville, Alabama. "We should see many more this weekend." Cooke and colleagues are broadcasting a live video feed from their camera, which will monitor the skies over Huntsville throughout the Geminid meteor shower. The soundtrack is a 55 MHz forward-scatter meteor radar located near the optical camera.
2009 Geminid Meteor Gallery
[sky map] [live video] [Geminid counts]
AFTER THE STORM: Last week, a powerful blizzard paralyzed parts of the US midwest. Mike Hollingshead of Blair, Nebraska, walked outside after the storm and this is what he saw: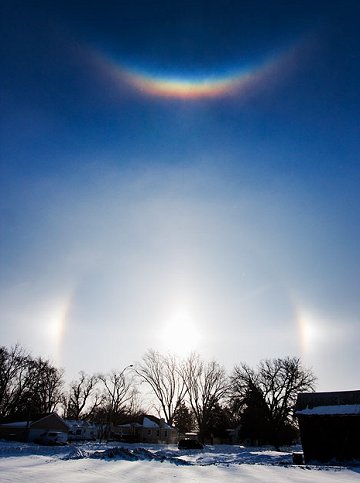 Sunlight shining through ice crystals had produced a bright pair of sundogs and a vivid circumzenithal arc. "These tend to appear on the backside of a storm's clearing line as ice crystals blow through the air," notes Hollingshead. "It's a beautiful sight but not a ton of fun to photograph at 5o F with winds blowing 40 mph."
Photographers, bundle up! More weather is on the way and there should be plenty to see after the storm.
---
December Northern Lights Gallery
[previous Decembers: 2008, 2007, 2006, 2005, 2001, 2000]
---