FIREBALLS TONIGHT: The northern branch of the annual Taurid meteor shower peaks on Nov. 12th. Sky watchers should be alert for fireballs. The Taurids, caused by debris from Comet 2P/Encke, tend to be slow and very bright. Forecasters expect as many as 5 Taurids per hour during the hours around midnight. [sky map] [gallery]
AROUND THE BEND: The "green sun" pictured below is an ultraviolet-wavelength photo taken just hours ago by NASA's STEREO-B spacecraft. What lies beneath the circled thicket of hot plasma and magnetic fields? It could be the most active sunspot of the year. (continued below)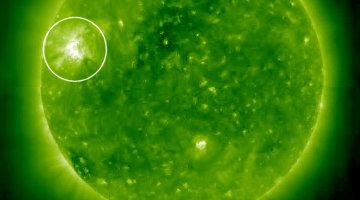 The circle marks the location of sunspot 1029. In late October, sunspot 1029 materialized on the Earth-facing side of the sun and quickly established itself as the biggest active region of 2009. It produced more than ten C-class solar flares, single-handedly quadrupling the number of such eruptions since the year began. For the past 11 days, however, sunspot 1029 has been out of sight transiting the farside of the sun.
The sunspot is still invisible from Earth, but STEREO-B can see it because the spacecraft is stationed over the sun's eastern horizon. The glaring knot of extreme ultraviolet activity hides the sunspot's underlying dark core from STEREO's UV telescopes, and this limits how much we know about it. Has sunspot 1029 broken apart and diminished during its long farside transit? Or is it still its old active self? Answers will be revealed in 3 days when solar rotation turns sunspot 1029 toward white-light cameras on Earth. Stay tuned.
UPSIDE-DOWN RAINBOWS: Lately, sky watchers have been reporting a growing number of "upside-down rainbows." Here's one that appeared Monday over Lansford, Pennsylvania: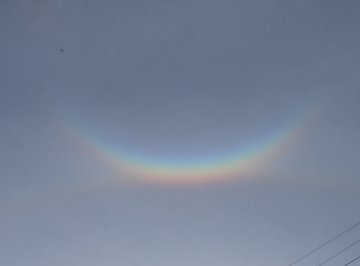 "This was just amazing and beyond exciting," says photographer Brenda Pun. "I grabbed my camera (a Nikon D40x) and quickly took some shots before it could disappear."
Despite its rainbow-like appearance, this is not a rainbow. It's a circumzenithal arc. Atmospheric optics expert Les Cowley calls it "the most beautiful of all ice haloes." The circumzenithal arc, or "CZA" for short, is formed by sunlight shining through plate-shaped ice crystals in high clouds. "The CZA is often described as an 'upside down rainbow' by first timers. Someone also charmingly likened it to 'a grin in the sky.'"
The same ice crystals that make circumzenithal arcs also make sundogs. Indeed, Brenda Pun saw a pair of bright sundogs flanking the sun while she was photographing her CZA. 'Dogs and grins naturally go together.
Circumzenithal arcs typically appear in late autumn and early winter when the air is icy and the sun is low. "The CZA forms only when sun is less than 32.3° high," notes Cowley, "and it is at its best when the sun is about 22° high." As winter solstice approaches, "upside down rainbows" will become increasingly common. Look for them!
more images: from Bob of Landing, New Jersey; from Sawyer Rosenstein of Ramsey, New Jersey; from Bob G. Hughes of Somerville, Alabama; from Jeremy of Mt. Arlington, New Jersey; from Paul Tahan of Wayne, New Jersey; from Peg Zenko of Green Bay, Wisconsin;
---
UPDATED: November Northern Lights Gallery
[previous Novembers: 2008, 2007, 2006, 2004, 2003, 2002, 2001]
---