STUCK ON MARS: NASA is about to begin transmitting commands to its Mars rover Spirit as part of an escape plan to free the venerable robot from a Martian sand trap. Officials say there is little hope of freeing Spirit, with a best case senario of "severe wheel slippage" and "barely detectable forward progress." On the bright side, Spirit is stuck in a very interesting spot. Science@NASA has the full story.
SOLAR ACTIVITY: Friday the 13th could be a lucky day for astrophotographers. A photogenic scene is developing on the sun's northeastern limb, where a magnetic thicket of hot plasma is rising into view. The Solar and Heliospheric Observatory (SOHO) made this movie of the action on Nov. 12th and 13th: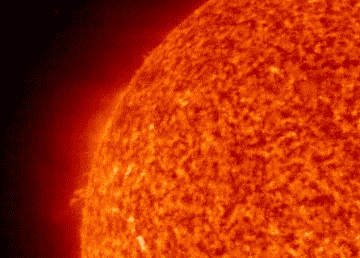 The swelling limb-glow heralds the approach of sunspot 1029, the biggest and most active sunspot of the year. Sunspot 1029 spent the past two weeks transiting the farside of the sun, invisible from Earth, but now it is about to reappear. Friday the 13th kicks off a 2- to 3-day photo-op as the sun's rotation slowly turns the active region back toward Earth. Readers with solar telescopes are encouraged to monitor developments.
Archival images of sunspot 1029: from Jimmy Eubanks of Boiling Springs, South Carolina; from Dave Gradwell of Birr, Ireland; from Pete Lawrence of Selsey, West Sussex, UK; from Paul Haese of Blackwood, South Australia
WHICH WAY IS NORTH? Picture this: You're lost in Norway, it's pitch-black dark, and your compass just fell in deep snow. How would you find your way? Just follow the green glow: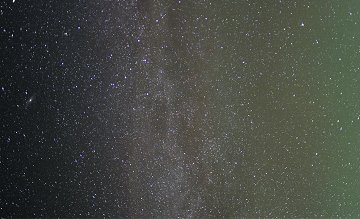 Fredrik Broms of Kvaløya, Norway, has figured out how to use his digital camera as a makeshift compass. "On Nov. 10th, I pointed my Nikon D3 straight up and made a widefield 2-minute exposure," he says. "The resulting image shows how the heavens were divided into dark clear skies in the south and faint green auroras in the north." The Milky Way provided the dividing line.
Around the Arctic Circle (where Kvaløya is located) the night sky almost always offers a hint of green to orient wayward travelers. A camera might be required to find it, but it's there. Just don't drop your Nikon in the snow.
UPDATED: November Northern Lights Gallery
[previous Novembers: 2008, 2007, 2006, 2004, 2003, 2002, 2001]
---