SUNSPOT CORPSE: Sunspot 1029 has returned from the farside of the sun--and it is not impressive. All that remains of the former behemoth is a bright magnetic froth. Readers with solar telescopes should target the northeastern limb of the sun to see a sunspot corpse.
SOLAR PROMINENCE: Yesterday, Alan Friedman of Buffalo, New York, trained his telescope on the sun and waited for sunspot 1029 to reappear. But that wasn't going to happen. It was shaping up to be a dull observing session when something completely different popped into view: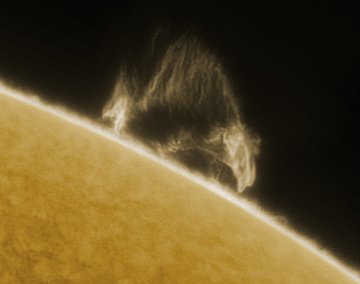 "This magnificent looping prominence stole the show from the corpse of sunspot 1029," says Friedman. "It was the most dramatic prominence I have seen in many months."
The same prominence was putting on a show this morning, Nov. 15th, when the sun rose over the Philippines. "I was elated when I was able to see it clearly visible in the field of my eyepiece!" reports James Kevin Ty from Manila. "I quickly set up my PST (Personal Solar Telescope) and was able to monitor the prominence for more than 2 hours."
AURORAS AHOY! "Who says one can't photograph the aurora from a moving ship? Digital photography has made things possible of which film shooters can only dream!" says traveling photographer Dennis Mammana. To prove it, he snapped this picture from the deck of the MS Midnatsol off the coast of Tromsø, Norway, on Nov. 12th: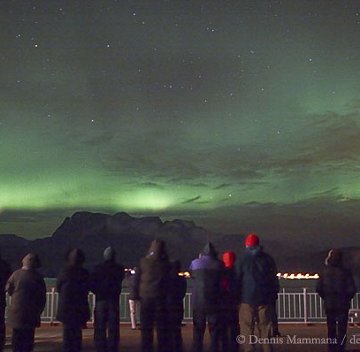 When the auroras appeared, "I pulled out a 24mm f/1.4L lens, opened it up all the way, kicked up the camera's ISO to 3200 and shot 2 second exposures for the faintest lights, 1 second exposures for the brightest," Mammana explains. "I also made a panorama of four 1 second exposures at ISO 1600."
"Digital noise is, of course, present in all images at such high ISO settings, but thermal noise was minimized by the cold ambient temperatures and could be reduced easily by software."
So, readers, if you find yourself on a ship after dark off the coast of Norway, now you know what to do.
November Northern Lights Gallery
[previous Novembers: 2008, 2007, 2006, 2004, 2003, 2002, 2001]
---