EMERGING SUNSPOT: Amateur astronomers are reporting that old sunspot 1029 is back. The sun's rotation is bringing it into view over the sun's northeastern limb. Readers with solar telescopes are encouraged to monitor developments. images: from Stephen Ames of Hodgenville, Kentucky; from Stefano Sello of Pisa, Italy; from Howard Eskildsen of Ocala, Florida
MORNING SHOW: On Saturday morning, Nov. 14th, Frank Hood of Montreal, Quebec, woke up before dawn to see the crescent Moon glide by 1st-magnitude star Spica. He lifted his camera (a Nikon D50) to record a picture he calls Moon and Spica, Electrified: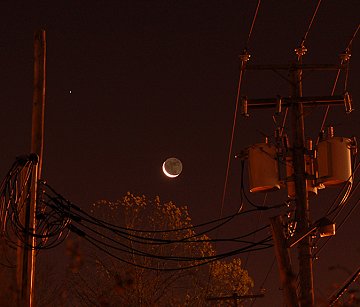 On Sunday morning, Nov. 15th, the crescent Moon will pose next to a different and much brighter heavenly object: Venus. Look for the pair, Venus+Moon, beaming through the rosy glow of sunrise. It's an electrifying view--no power lines required. [sky map]
WATER ON THE MOON: Last month when NASA's LCROSS spacecraft hit the Moon and failed to produce a bright flash, many observers thought the experiment was a dud. Think again. NASA has announced that LCROSS discovered water at the bottom of crater Cabeus near the Moon's south pole.
The primary evidence is spectral. When LCROSS's Centaur rocket hit the ground, it produced a faint cloud of vapor. High above, the LCROSS mothership analyzed the cloud using its near-infrared spectrometer. Some of the bumps and wiggles in the spectrum perfectly match the infrared signature of H2O: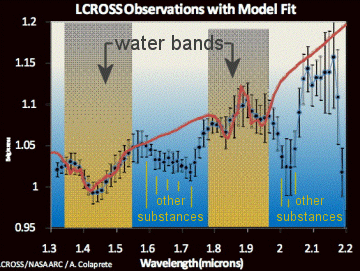 The red curve traces what the spectrum would have looked like if the debris cloud had been made of nothing but moondust and pure water vapor. Points with error bars are the actual data. Clearly, water is present, but that's not all. "Along with the water in Cabeus, there are hints of other intriguing substances," says Anthony Colaprete, the mission's principal investigator the NASA's Ames Research Center. "The possibility of contamination from the Centaur rocket [has been] ruled out," so any unidentified compounds are likely native to the Moon.
What are these mystery substances? Remember, LCROSS targeted a "cold trap" where materials have been freezing and accumulating for billions of years. It could be almost anything. Researchers are still studying the spectra for clues. "Full understanding of the LCROSS data may take some time," notes Colaprete. "The data are so rich."
Stay tuned for updates as the analysis continues.
---
November Northern Lights Gallery
[previous Novembers: 2008, 2007, 2006, 2004, 2003, 2002, 2001]
---