| | | |
| --- | --- | --- |
| BEHOLD THE SUN: Would you like to see fiery prominences and new-cycle sunspots with your own eyes? On sale now: Personal Solar Telescopes. | | |
A NEW KIND OF PULSAR: NASA's Fermi Gamma-ray Space Telescope has discovered a new kind of pulsar that hints at a previously unsuspected population of stars waiting to be found in the Milky Way: full story.
SOLAR ACTIVITY: It pays to keep an eye on the sun. Yesterday, with little warning, an enormous prominence surged into view. "It was the biggest I'd ever seen," says longtime observer Emiel Veldhuis of the Netherlands. Here is the view through his Personal Solar Telescope: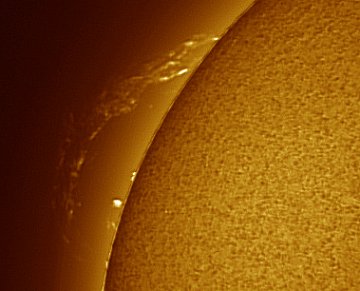 Held aloft by solar magnetism, the cloud of glowing hydrogen stretched more than 20 Earth diameters from end to end. It curled backwards over the sun's horizon and for a while seemed to promise days of unfolding entertainment. Then it collapsed. All that's left today is smooth horizon.
more images: from Pete Lawrence of Selsey, West Sussex, UK; from Thierry Legault of Paris, France; from Kristian Molnar of Senec, Slovakia; from Cai-Uso Wohler of Bispingen, Germany; from Denis Joye of Boulonge, France; from James Screech of Bedford, England; from Stephen Ames of Hodgenville, Kentucky; from Alan C Tough of Elgin, Moray, Scotland
PURPLE SUNSETS: "Sunsets in recent evenings have had a delicate purple color," reports William Helms of Buena Vista, Colorado. "This is not their usual color. Is there some particulate matter in the atmosphere?"
The answer is "yes." Lingering aerosols from Alaska's Kasatochi volcano are producing sunsets like this: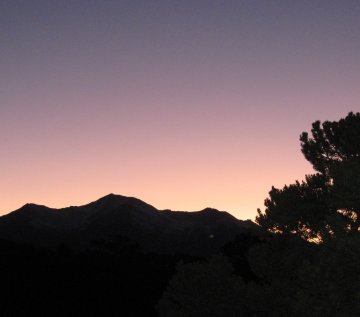 "In the foreground is Mt. Princeton, a little over 14,000 feet in elevation," says Helms. "I took the photograph with a Canon PowerShot A710 in automatic mode and I did not enhance it in any way."
Why purple? It's a mixture of red and blue. The blue likely comes from volcanic particles in the stratosphere small enough to act as Rayleigh scatterers. Rayleigh scattering by air molecules turns the daytime sky blue; likewise, Rayleigh scattering by tiny volcanic aerosols adds blue to the sunset. Mix that volcanic blue with a dash of ordinary sunset red and voila!--a purple sunset. (Note: This explanation should be considered speculative. The exact purple-producing mechanism is not well understood.)
When Kasatochi erupted on August 7th, it pumped more than a million tons of ash and sulfur dioxide into the stratosphere. Much of that material is still there, drifting around the Northern Hemisphere producing sunsets of subtle beauty. If don't see one tonight, look again tomorrow. The volcanic clouds are patchy and you may have to look many evenings in a row to catch the purple.
more images: from Doug Zubenel of De Soto, Kansas; from Jonathon Stone of Auburn, Alabama;
---
Oct. 2008 Aurora Gallery
[Previous Octobers: 2007, 2006, 2004, 2003, 2002, 2001, 2000]