| | | |
| --- | --- | --- |
| BEHOLD THE SUN: Would you like to see fiery prominences and new-cycle sunspots with your own eyes? On sale now: Personal Solar Telescopes. | | |
ORIONID METEORS: Earth is passing through a stream of dusty debris from Halley's Comet and this is giving rise to the annual Orionid meteor shower (so-called because the meteors emerge from the constellation Orion). This morning in the Netherlands, Koen Miskotte witnessed approximately 15 per hour "including many bright ones between magnitude +1 and -2," he says. Sky watchers should be alert for more during the hours before sunrise on Tuesday, Oct. 21st. [live counts] [sky map]
AURORA SURPRISE: No geomagnetic storm was predicted for Oct. 19th, but one happened anyway. "We had an outburst of beautiful auroras here in Finland," reports Sauli Koski. He recorded the green skies behind moonlit trees using his Nikon D3: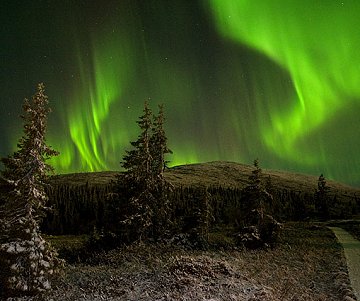 What happened? The interplanetary magnetic field (IMF) near Earth tipped south, opening a crack in our planet's magnetic defenses against the solar wind. Solar wind poured in and fueled the display.
"The clouds cleared just in time for some heavy auroras," says Thomas Hagen of Tromsø, Norway. "[It's] the greatest show on Earth!"
UPDATED: Oct. 2008 Aurora Gallery
[Previous Octobers: 2007, 2006, 2004, 2003, 2002, 2001, 2000]
PURPLE SUNSETS: "Sunsets in recent evenings have had a delicate purple color," reports William Helms of Buena Vista, Colorado. "This is not their usual color. Is there some particulate matter in the atmosphere?"
The answer is "yes." Lingering aerosols from Alaska's Kasatochi volcano are producing sunsets like this: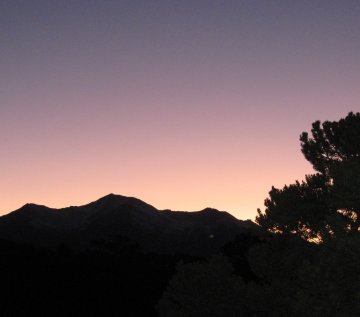 "In the foreground is Mt. Princeton, a little over 14,000 feet in elevation," says Helms. "I took the photograph with a Canon PowerShot A710 in automatic mode and I did not enhance it in any way."
Why purple? It's a mixture of red and blue. The blue likely comes from volcanic particles in the stratosphere small enough to act as Rayleigh scatterers. Rayleigh scattering by air molecules turns the daytime sky blue; likewise, Rayleigh scattering by tiny volcanic aerosols adds blue to the sunset. Mix that volcanic blue with a dash of ordinary sunset red and voila!--a purple sunset. (Note: This explanation should be considered speculative. The exact purple-producing mechanism is not well understood.)
When Kasatochi erupted on August 7th, it pumped more than a million tons of ash and sulfur dioxide into the stratosphere. Much of that material is still there, drifting around the Northern Hemisphere producing sunsets of subtle beauty. If don't see one tonight, look again tomorrow. The volcanic clouds are patchy and you may have to look many evenings in a row to catch the purple.
more images: from Mike Deep of Odessa, Florida; from Tamas Ladanyi of Balatonkenese, Hungary; from Doug Zubenel of De Soto, Kansas; from Jonathon Stone of Auburn, Alabama; from Aymen Ibrahem of Ras al Bar, Damietta, Egypt